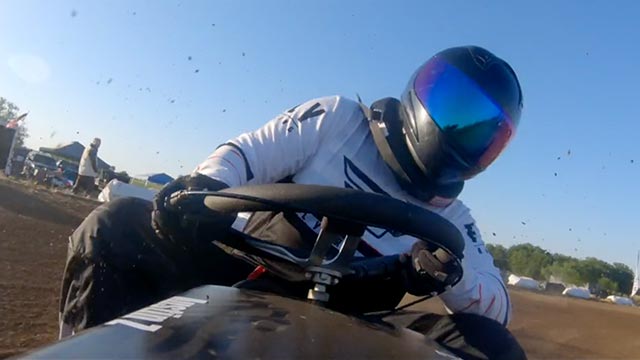 Inside Line Promotions – GUN BARREL CITY, Texas (April 27, 2021) – SawBlade.com sponsored Austin Zimmerman recorded the biggest win of his career last Saturday when he captured the FXS division's main event at Gun Barrel City Park.
The triumph kicked off a two-day event for the United States Lawn Mower Racing Association and the Lone Star Mower Racing Association.
"In hot laps we found an oiling issue that we had to try to solve," Zimmerman said. "We rigged something up that wouldn't spew oil all over me and the engine. I went into the heat race a little nervous hoping we solved the issue. When the green flag dropped the pole and second-place guy moved up the track and left the bottom open. I shot underneath them and beat them into turn one. When I came out of turn two I was in the lead and stretched it out on them."
Zimmerman's charge from third to win his heat race put him on the pole for the 20-lap feature.
"The feature was pretty interesting," he said. "The track was like a pigsty, really nasty and wet from all the rain North Texas had got the day before. It dried out pretty good, but there were still wet spots in the ruts. When the green flag dropped I noticed it was pretty rough around the bottom. I did what I could to avoid the ruts. No one had really run up high so there was some dust and marbles. I'd lose a decent amount of momentum up there. I made the mistake a few too many times halfway through the feature when second place ran underneath me and took the lead. I was playing catchup for the next four or five laps. I had just enough horsepower that I'd be right behind him at the corners. I'd have enough to get next to him, but as we dove into the corners I had to be cautious. If you enter too low it'll push you out on the exit of the track. I kept inching up on him for four or five laps before I made enough momentum to where I could pass him with about four laps to go. We pulled away in the closing laps."
The win was Zimmerman's second of the year and gave him momentum entering the event finale on Sunday.
"We had thrashed all morning to get some belt tension loose," he said. "The chain drive had loosened pretty good so we spent most of the morning trying to get all the problems worked out. We rushed to get there, I got on the mower and sent it around three times. Coming out of turn four it started loading up on the right rear and it just locked up. I looked underneath it and everything looked great. I took the hood off and the crank wasn't even hooked into anything anymore. It wound up cracking the block and a bunch of other stuff."
Zimmerman was unable to race that day and he is working to get everything fixed prior to the next Lone Star Mower Racing Association race on May 22 at Gun Barrel City Park.
QUICK RESULTS –
April 24 – Gun Barrel City Park in Gun Barrel City, Texas (FXS class) – Heat race: 1 (3); Feature: 1 (1).
2021 STATS –
3 races, 2 wins, 3 top fives, 3 top 10s, 3 top 15s, 3 top 20s
UP NEXT –
May 22 at Gun Barrel City Park in Gun Barrel City, Texas, with the Lone Star Mower Racing Association
MEDIA LINKS –
Website: http://www.SawBlade.com
Twitter: https://twitter.com/SawBladecom
Facebook: https://www.facebook.com/SawBladecom
Instagram: https://www.instagram.com/sawblade.com_
SPONSOR SPOTLIGHT – SawBlade.com
SawBlade.com, which is located in Houston, Texas, is redefining the way industrial, hardware and home use band saw blades are made and distributed. For more information, visit http://www.SawBlade.com.
"SawBlade.com is a sponsor of the LSMRA Series and wanted to sponsor a vehicle on there," Zimmerman said. "We started talking about Nolan and they built him a mower. We built his first and mine came about after the fact because Sammie and Marion Neel, who run the series, had an extra mower for sale. We checked it out and it just fit. We wound up purchasing it and SawBlade.com was on board with having a mower in both a lower and upper class. Additionally, we used a variety of SawBlade.com saw blades to help build my mower. They worked great and helped speed up the process."
INSIDE LINE PROMOTIONS –
Inside Line Promotions specializes in affordable public relations and media management for motor sports drivers, teams, sponsors, tracks, series, events, organizations and manufacturers. ILP Founder Shawn Miller leverages professional journalism with new media technologies and social networking to improve your exposure and the return on investment for your sponsors.
To meet the media relations needs of your program by joining Team ILP, contact Shawn at 541-510-3663 or [email protected]. For more information on Inside Line Promotions, visit http://www.InsideLinePromotions.com.