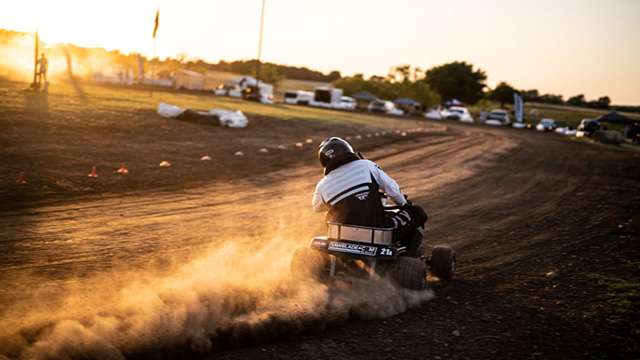 Inside Line Promotions – WORTHAM, Texas (Oct. 20, 2020) – Austin Zimmerman opened the 2020-21 season in style last Saturday when he competed in two classes with the Lone Star Mower Racing Association at Camp Shayla.
The SawBlade.com backed competitor garnered a runner-up result in the FX division while he swept the heat race and main event in his first-ever start in the FXT class.
Zimmerman nearly had a clean sweep of the night by winning every time he hit the track. He claimed a heat race win to garner the pole position for the FX main event.
"We found out we had blown a head gasket a week or so before the race so we thrashed to get it ready," he said. "We didn't know how exactly it would act. We went Friday to put some test laps in and the mower ran great. They did a great job with the track. It stayed tacky both days. I didn't have to do a lot with the setup. I set it up how I usually set it up.
"Sammie (Neel) got the jump on me in the heat race. I came around her midway through the race to seal the victory. That put me on the pole for the feature.
"She jumped out on me in the feature race on the start. I didn't run the motor real hard because I didn't know how the motor would act, but I got faster and faster. Toward the end she was running hers so hard I couldn't make up any ground. She was running the same lane I was. She ran about a mower length in front of me for all 20 laps. We stayed neck in neck all race, but I couldn't do anything. She ran a great race."
Zimmerman finished second and he also enjoyed a successful performance in the FXT division.
"Mr. Marion Neel owns the mower and had been having some issues," he said. "Me and my dad did some tinkering on it and helped get it lined out. Marion said if you want to drive it you can race it. We showed up Friday and we did some tuning on the carburetor and got a stumble out of it. It drove well and we were real happy with it. We turned some record times on that track with that mower.
"I waited until the heat (on Saturday) because I knew the track was going to be there. It had stayed the same from the previous day. We set the mower up exactly as we did Friday. I drew dead last for the heat race and the start wasn't great. It was a fight for a lap until I could get out from behind a couple of guys. About another lap later I got up to second. It was a battle between me and Mr. John Howard for the lead for about eight laps of me playing catch up. He was up there about 10 mower lengths once I got to second. I started going up high and diving low in the corner. It was just launching me. I made sure if he was going to mess up I would be there. He pushed up to the top and got in the slick. It shot him to the inside of the track. When he got back on it I was coming out of the corner and I had just enough momentum to gain the lead."
Zimmerman's charge from fifth to win the heat race gave him the pole position for the main event.
"He got the jump on me a good three lengths and it was basically playing catch up again," he said. "I didn't run the mower hard to start because they had put some water on the track and I wasn't sure if it was going to be greasy. I stayed about three lengths behind within the first five laps. Then I gained some confidence in the track and started making my line, going in high and diamonding the exit. I started reeling him in and steadily making some gains. I wound up being on his tail when he hit a hole that knocked his right front tire off the bead. When we were coming out of turn four when I could see smoke coming off his mower. I darted underneath him to take the lead around the 15th lap out of 20. The rest of the time I kept hitting my line and we won."
AUSTIN ZIMMERMAN QUICK RESULTS –
Oct. 17 – Camp Shayla in Wortham, Texas (FX class) – Heat race: 1 (2); Feature: 2 (1).
Oct. 17 – Camp Shayla in Wortham, Texas (FXT class) – Heat race: 1 (5); Feature: 1 (1).
AUSTIN ZIMMERMAN SEASON STATS –
2 races, 1 win, 2 top fives, 2 top 10s, 2 top 15s, 2 top 20s