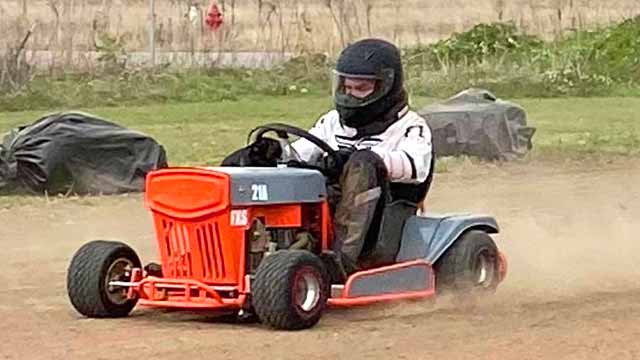 Inside Line Promotions – GUN BARREL CITY, Texas (March 29, 2021) – Austin Zimmerman soaked up the experience from his first visit to Gun Barrel City Park last Saturday.
The SawBlade.com sponsored competitor earned a runner-up result in the FXS class during the Lone Star Mower Racing Association race, which was a perfect opportunity to learn prior to the LSMRA and United States Lawn Mower Racing Association event at the track on April 24-25.
"Oh I think that will be a huge event," Zimmerman said. "I'd expect our class to double in entrants and people from other states to be competing."
Last Saturday's show was certainly a learning moment for Zimmerman, who struggled with the handling on his mower throughout the night.
"This was a new track for me," he said. "It was quite a bit longer and had some bigger turns. I had fixed the mower from the past race with the blown head gasket. It ran great. I set it up the same as the last track because it looked pretty loose and pretty sandy.
"During hot laps there was no traction. It was super loose. You had to set the car sideways going into the corner and then feather it. I kept dropping the air pressure in the tires, but I should have moved my right rear in to get more weight on it. It's a learning thing. We were racing with people in our old FX class. Their center of gravity is higher so when they lean over it puts more weight versus how I am."
Zimmerman finished where he started – third – in a heat race, which lined him up on the inside of the second row for the main event.
"We drew third for the heat race and when we took off everyone stayed in their spot," he said. "Nobody could make any gains so that set us up in the feature race in the same position. When the feature started everybody did the same thing again. I had dropped more air pressure for the feature race. My mower started understeering real bad. I got it too tight, pushjng forward, but not enough bite turning left. It wouldn't turn in the corners. I had to slam on the brakes to get it to set sideways.
"The track started to blue on both corners mid-race and I was able to make some leeway on second place. I passed him with five laps to go and everyone stayed there. Now looking back at it knowing the track would be pretty loose and with my limited knowledge from working on a sprint car five years ago I should have moved my right rear over. It was a new learning experience in our second race on the mower and a brand new track."
QUICK RESULTS –
March 27 – Gun Barrel City Park in Gun Barrel City, Texas – Heat race: 3 (3); Feature: 2 (3).
AUSTIN ZIMMERMAN 2021 STATS –
2 races, 1 win, 2 top fives, 2 top 10s, 2 top 15s, 2 top 20s
UP NEXT –
April 24-25 at Gun Barrel City Park in Gun Barrel City, Texas, with the Lone Star Mower Racing Association and the United States Lawn Mower Racing Association
MEDIA LINKS –
Website: http://www.SawBlade.com
Twitter: https://twitter.com/SawBladecom
Facebook: https://www.facebook.com/SawBladecom
Instagram: https://www.instagram.com/sawblade.com_
SPONSOR SPOTLIGHT – SawBlade.com
SawBlade.com, which is located in Houston, Texas, is redefining the way industrial, hardware and home use band saw blades are made and distributed. For more information, visit http://www.SawBlade.com.
"SawBlade.com is a sponsor of the LSMRA Series and wanted to sponsor a vehicle on there," Austin Zimmerman said. "We started talking about Nolan and they built him a mower. We built his first and mine came about after the fact because Sammie and Marion Neel, who run the series, had an extra mower for sale. We checked it out and it just fit. We wound up purchasing it and SawBlade.com was on board with having a mower in both a lower and upper class. Additionally, we used a variety of SawBlade.com saw blades to help build my mower. They worked great and helped speed up the process."
INSIDE LINE PROMOTIONS –
Inside Line Promotions specializes in affordable public relations and media management for motor sports drivers, teams, sponsors, tracks, series, events, organizations and manufacturers. ILP Founder Shawn Miller leverages professional journalism with new media technologies and social networking to improve your exposure and the return on investment for your sponsors.
To meet the media relations needs of your program by joining Team ILP, contact Shawn at 541-510-3663 or [email protected]. For more information on Inside Line Promotions, visit http://www.InsideLinePromotions.com.