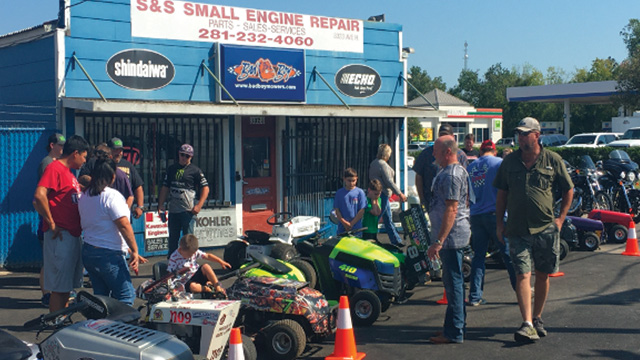 WOW, WHAT A TURNOUT!
The S&S Small Engine Repair shop in Rosenberg, TX hosted a BBQ Fundraiser benefiting the LSMRA October 10th & 11th. With over 15 racing mowers and their drivers, owner Curtis O'Brien, who is the President of the LSMRA, was excited to see everyone turnout for the event. Members of the LSMRA came from all across Texas just to help out. The LSMRA raised over $1800 for their organization.
THE COMMUNITY
There were Nurses who came to get lunch and show support, the local Rosenberg football team stopped by, and even Mayor William Benton joined in on the fun. Nearby local shop owners came to give the LSMRA donations. The Bennetts from Camp Shayla, where the LSMRA races regularly, came to support also.
FAMILY FUN
Once the day ended on Sunday, and the last customer left, Curtis O'Brien took the rest of the BBQ to the local Boys Home in Rosenberg. Needless to say, they were very appreciative. Over all, the BBQ Fundraiser was a success. Good food, good weather and good people.