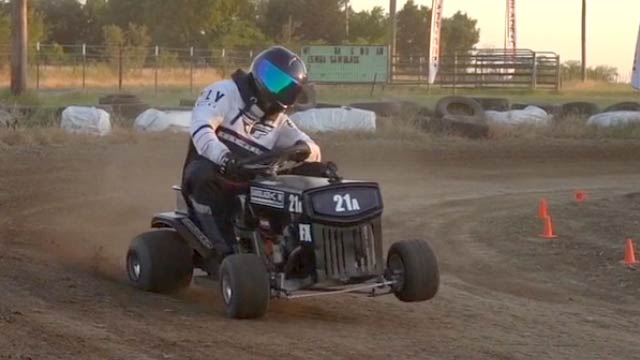 Inside Line Promotions – WORTHAM, Texas (June 17, 2020) – Austin Zimmerman guided his SawBlade.com sponsored lawn mower to another triumph last Saturday at Camp Shayla, which hosted its first Lone Star Mower Racing Association event since March.
Zimmerman swept the FX class, which features modified versions of lawn mowers, by winning both a heat race and the main event.
"During hot laps the track was pretty slick," he said. "The track was real dry and then they watered it right before we went out there. It messed me up because there were spots that were slick where it was wet and there were parts where it'd really hook up. It threw me for a curve ball when I was looking to set the stagger and everything up for the heat race. I went ahead and set it up to be a little looser than what I started when I went out for hot laps.
"When we took off the polesitter got out a little ways ahead of me. It took me a lap or so and I was able to pass her. The mower handled really well. The track was there and was really racy."
The heat race win put Zimmerman on the pole for the main event.
"I stayed with the same setup," he said. "I think they watered the track one more time. The sun was starting to go down. It was really wet and sloppy when they got done watering it. I was a little worried because the sun had gone under the horizon and the wind stopped. The first two classes got out there and took the slick off the top of the track. Then it got real tacky. I was constantly walking the track to make sure it'd come in like I wanted. Sure enough it came in. I got the jump and extended the lead the whole time. Everything played out."
Zimmerman led the distance to remain undefeated in two starts behind the wheel of his lawn mower.
"I want to thank Jimmy and his wife, Donna Bennett, for being really accommodating and putting together a good track," he said. "I also want to thank SawBlade.com for backing us as well as my mom and dad for their support."
The next Lone Star Mower Racing Association event is July 11 at Camp Shayla.
AUSTIN ZIMMERMAN QUICK RESULTS –
June 13 – Camp Shayla in Wortham, Texas – Heat race: 1 (2); Feature: 1 (1).
AUSTIN ZIMMERMAN SEASON STATS –
2 races, 2 wins, 2 top fives, 2 top 10s, 2 top 15s, 2 top 20s
UP NEXT –
July 11 at Camp Shayla in Wortham, Texas, with the Lone Star Mower Racing Association
INSIDE LINE PROMOTIONS –
Inside Line Promotions specializes in affordable public relations and media management for motor sports drivers, teams, sponsors, tracks, series, events, organizations and manufacturers. ILP Founder Shawn Miller leverages professional journalism with new media technologies and social networking to improve your exposure and the return on investment for your sponsors.
To meet the media relations needs of your program by joining Team ILP, contact Shawn at 541-510-3663 or [email protected]. For more information on Inside Line Promotions, visit https://www.InsideLinePromotions.com