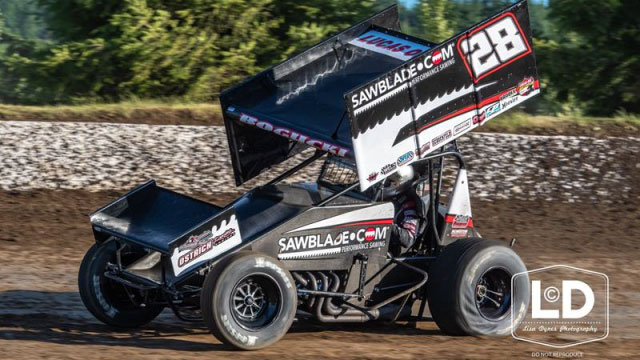 Inside Line Promotions – HOUSTON, Texas (Nov. 3, 2020) – SawBlade.com sponsored sprint car driver Scott Bogucki enjoyed a successful season that was missing one just one ingredient – luck.
"I just had awful luck right from the start of the year," he said. "We spent all year trying to change it. We could only change it for short periods of time. I just couldn't get consistent luck. It was quite frustrating because we had really good speed."
The speed was on display whenever Bogucki didn't run into misfortune. He posted career-best outings during the 360 Knoxville Nationals and the Short Track Nationals. Bogucki capped the season with a runner-up result during the opening night of the Devil's Bowl Speedway Winter Nationals.
"The first night at Devil's Bowl we ran from 10th to second," he said. "If there was another yellow I think we had something for the leader. We just had to start too deep in the race. That happened a lot this year. If we could have started a couple of rows further up it would have made a difference."
Bogucki made the most of his shining moments by capturing a career-best third-place result in the Lucas Oil ASCS National Tour championship standings. His five top fives was tied for fourth most and 11 top 10s ranked third most.
"At one point we were like seventh and miles out of third in the standings," he said. "We kept digging and got back up there. We also ended up running 10th in points at Knoxville Raceway with the few times we ran there."
Perhaps the biggest moment of Bogucki's season came on July 4 when he captured his first career victory at Knoxville Raceway in Knoxville, Iowa.
"It's extremely disappointing that I didn't get SawBlade.com, Dissolvalloy and my sponsors a National win, but we did win at Knoxville," he said. "Ever since I left home I've wanted to win there. Knoxville is a beast of its own. There's nothing you can take from other tracks. You have to do your own thing and drive it its own way. It's taken me a long time to where I can compete for wins there."
Bogucki also found success in 410ci winged sprint car competition, posting a third-place run during his first-ever Ollie's Bargain Outlet All Star Circuit of Champions race.
"I still am more comfortable in a 410 car," he said. "The extra power and lighter motor, I feel good, like I'm back home."
Bogucki plans on returning to Australia this winter to continue racing.
SEASON STATS –
33 races, 1 win, 9 top fives, 19 top 10s, 22 top 15s, 26 top 20s
INSIDE LINE PROMOTIONS –
Inside Line Promotions specializes in affordable public relations and media management for motor sports drivers, teams, sponsors, tracks, series, events, organizations and manufacturers. ILP Founder Shawn Miller leverages professional journalism with new media technologies and social networking to improve your exposure and the return on investment for your sponsors.
To meet the media relations needs of your program by joining Team ILP, contact Shawn at 541-510-3663 or [email protected]. For more information on Inside Line Promotions, visit https://www.InsideLinePromotions.com