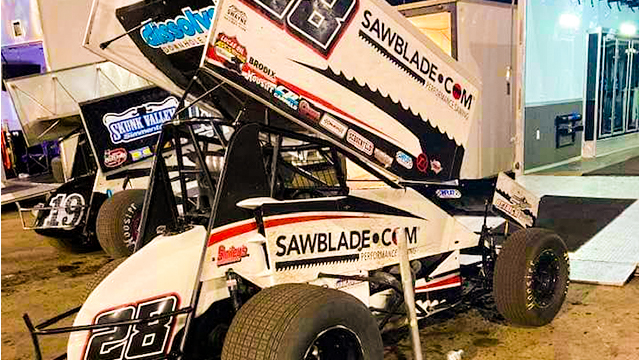 Inside Line Promotions – HOUSTON, Texas (Nov. 8, 2021) – Five feature triumphs highlighted the 2021 season for Scott Bogucki.
It marked the most wins in a season in the United States for the SawBlade.com supported Australian. Four of the victories were during Lucas Oil ASCS National Tour competition, which is also a single-season best mark for Bogucki.
"We have speed now," he said. "We just have to find the consistency. I feel like finding speed is harder than working on consistency."
Bogucki's ASCS National Tour wins came at Tri-City Speedway in Granite City, Ill.; at Lake Ozark Speedway in Eldon, Mo.; at Gallatin Speedway in Belgrade, Mont.; and at I-80 Speedway in Greenwood, Neb.
He was also triumphant at Knoxville Raceway in Knoxville, Iowa, during an unsanctioned race.
"Winning at Knoxville is always awesome," he said. "I led twice there this year prior to our win. One night I was leading and a cam spud spun and the other one I stumbled on a restart, didn't cover the slider and got passed with like two laps to go. I wasn't going to let another one slip through our fingers."
Bogucki finished the season ranked seventh in the ASCS National Tour championship standings after missing multiple races following a back injury. His four wins was tied for the fourth most. Bogucki also ranked fifth in top fives – 12 – and sixth in top 10s – 14.
"I'm grateful for all of the support of our partners and the people who have helped crew for the team," he said. "I'm looking forward to taking another step forward next year."
SEASON STATS –
44 races, 5 wins, 15 top fives, 20 top 10s, 27 top 15s, 30 top 20s
MEDIA LINKS –
Website: http://www.SawBlade.com
Twitter: https://twitter.com/SawBladecom
Facebook: https://www.facebook.com/SawBladecom
Instagram: https://www.instagram.com/sawblade.com_
SPONSOR SPOTLIGHT – SawBlade.com
SawBlade.com, which is located in Houston, Texas, is redefining the way industrial, hardware and home use band saw blades are made and distributed. For more information, visit http://www.SawBlade.com. Additionally, SawBlade.com is the official saw blade of the American Sprint Car Series and the title sponsor of every ASCS National Tour main event as well as the Victory Lane sponsor.
"Everyone at SawBlade.com has been very supportive," Bogucki said. "They have stuck with me as we've continued to build our race team and develop into a consistent contender. I appreciate their loyalty and support."
Bogucki would also like to thank Dissolvalloy, Ostrich Race Engines, KW Motorsports, Smith Titanium, TJ Forged, JJS Mechanical Inc., HRP Wings, Momentum Racing Suspension, Maxim Chassis, Kaeding Performance and Howard Law for their support.
INSIDE LINE PROMOTIONS –
Inside Line Promotions specializes in affordable public relations and media management for motor sports drivers, teams, sponsors, tracks, series, events, organizations and manufacturers. ILP Founder Shawn Miller leverages professional journalism with new media technologies and social networking to improve your exposure and the return on investment for your sponsors.
To meet the media relations needs of your program by joining Team ILP, contact Shawn at 541-510-3663 or [email protected]. For more information on Inside Line Promotions, visit http://www.InsideLinePromotions.com.