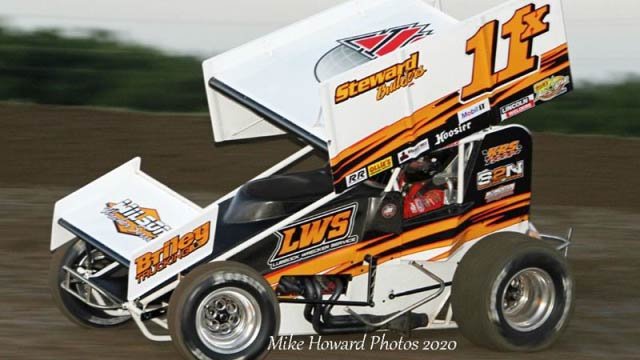 Inside Line Promotions – LUBBOCK, Texas (July 8, 2020) – John Carney II posted a pair of sixth-place finishes last weekend during the 2020 Scooter Matthews Memorial/Firecracker Shootout.
The SawBlade.com Xiphos saw blade and Burkham Contracting backed competitor piloted a 305ci winged sprint car for Scott Brown during the two-day event at West Texas Raceway.
The weekend began on a sour note as a DNS in a heat race on Friday relegated Carney II to the back of the main event. However, the team used a different car in the feature and Carney II hustled from 23rd to sixth. The performance earned him the Hard Charger Award for passing the most cars.
"We did have some mechanical problem and couldn't start the heat race," he said. "We didn't make a green flag lap until the feature. We ran back to the shop, which was down the street from the track, and grabbed another car.
"My transponder wasn't working properly both nights so the scoring was off. I had got to fifth, but there were some cautions that I got shuffled back. Every yellow I lost spots because they'd put me behind cars I was ahead of. I think I would have finished third or fourth the first night and that would have locked me into the next night starting in the top four. It could have been two top fives instead of having to pass as many cars as we did."
Carney II was on the move again on Saturday, advancing from fifth to third place in a heat race before rallying from 11th to sixth in the A Main.
"We were up to fifth at one point, but because I wasn't being scored right I got moved back to ninth on a caution, which turned into a red. I was behind some cars I hadn't been behind all night. Given the circumstances, to finish sixth both nights was a success."
Carney II will take this weekend off before resuming competition on July 18 at Route 66 Motor Speedway in Amarillo, Texas.
QUICK RESULTS –
July 3 – West Texas Raceway in Lubbock, Texas – Heat race: DNS (1); Feature: 6 (23).
July 4 – West Texas Raceway in Lubbock, Texas – Heat race: 3 (5); Feature: 6 (11).
SEASON STATS –
18 races, 3 wins, 6 top fives, 8 top 10s, 12 top 15s, 14 top 20s
UP NEXT –
July 18 at Route 66 Motor Speedway in Amarillo, Texas