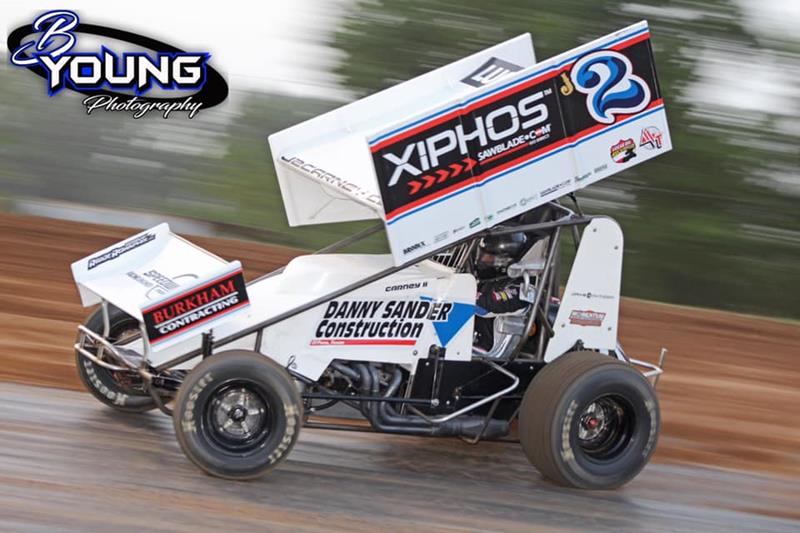 (Photo by B Young Photography)
Inside Line Promotions – LITTLE ROCK, Ark. (June 30, 2020) – John Carney II set himself up to secure a season-best outing in his SawBlade.com Xiphos saw blade and Mesilla Valley Transportation backed sprint car last Saturday at I-30 Speedway.
Carney II won a Lucas Oil ASCS National Tour heat race after starting on the outside of the front row before he maneuvered from fifth to third place in a qualifier. That ranked him fourth in points out of the 40-plus competitors.
"I think we were half a second quicker than anyone in the heats. We made an adjustment for the qualifier. We were three wide for the lead going to the stripe. That track is about two wide, not three wide. If the two guys in front of us weren't racing side by side I think we could have got another position or two. We left the car alone for the feature. I don't know if it was the first lap or the second lap, but someone right reared me. I made it three or four more laps before the drag link broke. When I spun out I got hit and it bent the front axle."
Carney II started fourth and was battling for a top five during the opening laps before the incident ended his night early. It was a typical result during what has been a tough start to the ASCS National Tour season.
The series resumed action last Thursday at Caney Valley Speedway in Caney, Kan., after being dormant for more than three months. Carney II struggled to find a balance in his race car all night, finishing fifth in both a heat race and a B Main.
"I think last year I missed one ASCS National Tour race, that was the first one I remember missing other than when I first started racing. The deal the other night marked three in a row. Just weird stuff going on. I was so mad about Thursday. To start up front and not be able to maintain was terrible. Backing up is not something I'm okay with. We ran a lot better at I-30 Speedway, but just ran into misfortune."
Carney II will team up with Scott Brown to tackle the 2020 Scooter Matthews Memorial/Firecracker Shootout this Friday and Saturday at West Texas Raceway in Lubbock, Texas. The duo has three feature victories together this season.
QUICK RESULTS –
June 25 – Caney Valley Speedway in Caney, Kan. – Heat race: 5 (2); B Main: 5 (3).
June 27 – I-30 Speedway in Little Rock, Ark. – Heat race: 1 (2); Qualifier: 3 (5); Feature: 24 (4).
SEASON STATS –
16 races, 3 wins, 6 top fives, 6 top 10s, 10 top 15s, 12 top 20s
MEDIA LINKS –
Website: https://j2carney.com/
Twitter: https://twitter.com/J2Carney
Facebook: https://www.facebook.com/JohnCarneyRacing/
INSIDE LINE PROMOTIONS –
Inside Line Promotions specializes in affordable public relations and media management for motor sports drivers, teams, sponsors, tracks, series, events, organizations and manufacturers. ILP Founder Shawn Miller leverages professional journalism with new media technologies and social networking to improve your exposure and the return on investment for your sponsors.
To meet the media relations needs of your program by joining Team ILP, contact Shawn at 541-510-3663 or [email protected]. For more information on Inside Line Promotions, visit http://www.InsideLinePromotions.com.