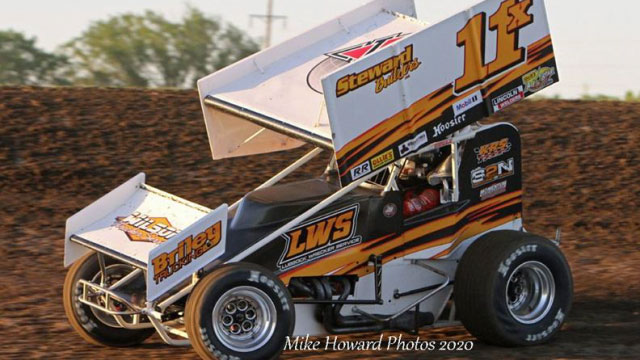 (Photo by Mike Howard Photos)
Inside Line Promotions – WICHITA FALLS, Texas (June 16, 2020) – SawBlade.com Xiphos saw blade backed racer John Carney II showed speed early in the night during a trio of Ollie's Bargain Outlet All Star Circuit of Champions presented by Mobil 1 races last week.
Carney II originally teamed up with car owner Scott Brown to tackle five Cometic Gasket Thunder Through the Plains presented by Hercules Tires races, but pulled off the trip early to focus on improving the handling of the sprint car.
"I would say we did fair, as far as timing in we were pleased with our qualifying times. But each time I got out of the car after timing in I didn't feel like they were perfect laps so I know we can improve there. Once we got on the track in dirty air we had some handling issues. The more we tried to adjust on the things we thought would work it got worse."
Carney II qualified sixth quickest last Wednesday at Devil's Bowl Speedway in Mesquite, Texas, before he placed third in a heat race and 14th in the main event.
He timed in seventh quickest the following night at Southern Oklahoma Speedway in Ardmore, Okla., where he ended sixth in a heat race and 19th in the A Main.
The final start of the week came on Friday at Monarch Motor Speedway. Carney II qualified seventh quickest, finished third in a heat race and posted a 13th-place result in the feature.
"I think it was a combination of horsepower and the tires being different, when I was on the track with other cars it was loose getting in and I was tight at the exit really bad. It'd pick the tires up. When it does that it wants to drive to the wall.
"We decided to pull off the plan early so we could work on the car. We're going to make some adjustments to the shock program and put all those components on another chassis. We'll change our wing program up, too. Everything will be the same brand, just a different style. There will be quite a few changes. That should get us a little bit better in dirty air."
Carney plans to return to action in his car with the Lucas Oil ASCS National Tour on June 25 at Caney Valley Speedway in Caney, Kan., and June 27 at I-30 Speedway in Little Rock, Ark.
QUICK RESULTS –
June 10 – Devil's Bowl Speedway in Mesquite, Texas – Qualifying: 6; Heat race: 3 (2); Feature: 14 (12).
June 11 – Southern Oklahoma Speedway in Ardmore, Okla. – Qualifying: 7; Heat race: 6 (2); Feature: 19 (16).
June 12 – Monarch Motor Speedway in Wichita Falls, Texas – Qualifying: 7; Heat race: 3 (3); Feature: 13 (10).
SEASON STATS –
12 races, 1 win, 4 top fives, 4 top 10s, 8 top 15s, 10 top 20s
UP NEXT –
June 25 at Caney Valley Speedway in Caney, Kan., and June 27 at I-30 Speedway in Little Rock, Ark., with the Lucas Oil ASCS National Tour
MEDIA LINKS –
Website: https://j2carney.com/
Twitter: https://twitter.com/J2Carney
Facebook: https://www.facebook.com/JohnCarneyRacing/