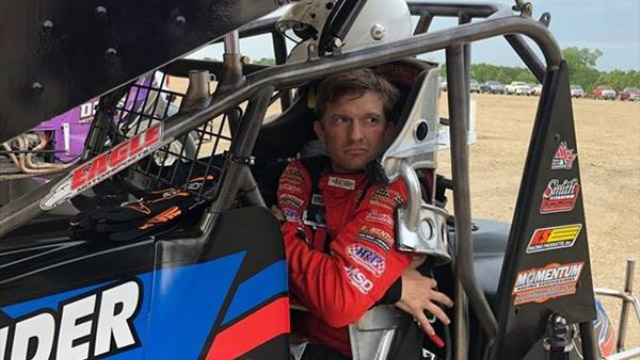 Inside Line Promotions – PARK CITY, Kan. (June 9, 2020) – SawBlade.com Xiphos saw blade sponsored driver John Carney II is making his 410ci winged sprint car season debut this week.
Carney II will drive for Scott Brown during four Ollie's Bargain Outlet All Star Circuit of Champions presented by Mobil 1 races. These Cometic Gasket Thunder Through the Plains presented by Hercules Tires events will be his first in a 410 since 2018.
It begins on Wednesday at Devil's Bowl Speedway in Mesquite, Texas. Southern Oklahoma Speedway in Ardmore, Okla., hosts a race on Thursday before Monarch Motor Speedway in Wichita Falls, Texas, is the site of Friday's race. Carney II wraps up his weekend on Saturday at LoneStar Speedway in Kilgore, Texas.
"Scott's cars are basically the same build as mine, I've run at all these tracks. We'll take our program and drop in the 410. There's not as many variables as there could be.
"The main thing is when the track starts to dry up and get technical you have to use both your feet a lot. There is so much more power with the 410 that you have to barely work the throttle when it gets dry. When the track is heavy or has a cushion it's the same thing (as a 360); you hold it down and try to keep it straight."
The goal is to run strong from the start by laying down great qualifying results, Carney II noted.
"We want to qualify well and hopefully make it to each main event out of the heat race, it'd be nice to be in the dash a couple nights. We just want to be competitive and have a good time."
Carney II joined the team for a trio of 305ci sprint car races last weekend. He placed fourth on Friday at West Texas Raceway in Lubbock, Texas; was victorious on Saturday at Route 66 Motor Speedway in Amarillo, Texas; and was the runner up on Sunday at 81 Speedway.
"It was good to have a warm-up weekend with the race team to feel things out, it's great equipment and that's what we expected. Hopefully we can continue to be successful this week."
SEASON STATS –
9 races, 1 win, 4 top fives, 4 top 10s, 6 top 15s, 7 top 20s
UP NEXT –
Wednesday at Devil's Bowl Speedway in Mesquite, Texas; Thursday at Southern Oklahoma Speedway in Ardmore, Okla.; Friday at Monarch Motor Speedway in Wichita Falls, Texas; Saturday at LoneStar Speedway in Kilgore, Texas, during the Cometic Gasket Thunder Through the Plains presented by Hercules Tires with the Ollie's Bargain Outlet All Star Circuit of Champions presented by Mobil 1
MEDIA LINKS –
Website: https://j2carney.com/
Twitter: https://twitter.com/J2Carney
Facebook: https://www.facebook.com/JohnCarneyRacing/
Shawn Miller – Inside Line Promotions – [email protected] | (541) 510-3663