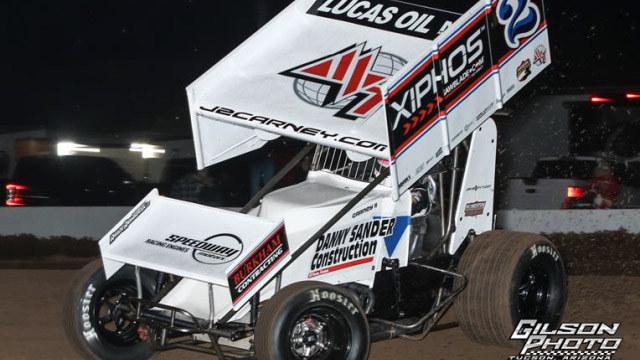 (Photo by Ron Gilson/GilsonPhoto)
Inside Line Promotions – LUBBOCK, Texas (May 14, 2020) – John Carney II earned his best result of the season last Saturday when he powered to a fourth-place finish during a Sprint Car Bandits Series event.
The SawBlade.com Xiphos saw blade and CSR Garage backed competitor kicked off the event at Monarch Motor Speedway in Wichita Falls, Texas, by finishing where he started – second – in a heat race. That lined him up on the outside of the sixth row for the main event.
"It was real dry and dusty and the wind was blowing, everyone was fighting for the bottom and I went right for the middle. They were putting around there going real slow. I kept my momentum up and the car square. I got three or four cars on the first lap when they bottlenecked. They were about parking their cars to fight for the bottom so it worked out well."
Carney II hustled into the lead near the midpoint of the feature and was en route to his first victory of the season before a late-race restart.
"At the restart at the end they said I jumped it and called it back, but I'm not sure how the leader jumps it, on the next one a driver behind me had me about passed because they do that Delaware restart. He about got into me in turn three, which allowed him and another around. It wasn't an ideal end to the race, but that's part of racing. It was still good to go from 12th to fourth."
The fourth-place finish was his first top five of the season.
Carney II ventured to West Texas Raceway last Tuesday for the opening night of the West Texas Crude Nationals. He qualified second quickest in his group before advancing from third to second place in a heat race.
"We were definitely right in the hunt, the format that they used was pretty good. I liked it and would like to do it again. With the heat race inversion I started third and I had to win to get in the dash. When you're racing against all those guys, there weren't any slow cars there so it wasn't ideal."
Carney II missed making a dash by only one position and he lined up 11th for the main event.
"When we rolled out for the feature the bleeder didn't get in right or the left rear tire got cut, it was going flat and remained flat the whole race. I probably should have pulled off and taken my chances at starting at the back. Hindsight is 20/20. If I would have known how it would play out I would have made an attempt at going to the work area.
"I probably backed up to 15th or 16th. Some cars wrecked and at the end it took a little rubber through the center and I passed two or three cars back."
Carney II was credited with a 13th-place finish.
Wednesday's event finale rained out.
QUICK RESULTS –
May 9 – Monarch Motor Speedway in Wichita Falls, Texas – Heat race: 2 (2); Feature: 4 (12).
May 12 – West Texas Raceway in Lubbock, Texas – Qualifying: 2; Heat race: 2 (3); Feature: 13 (11).
SEASON STATS –
6 races, 0 wins, 1 top five, 1 top 10, 3 top 15s, 4 top 20s
Shawn Miller – Inside Line Promotions – [email protected] | (541) 510-3663