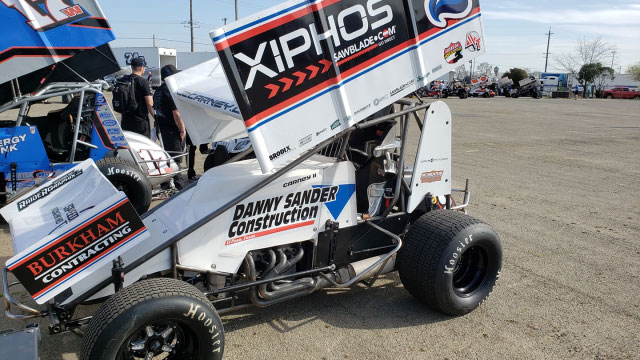 Inside Line Promotions – EL PASO, Texas (May 6, 2020) – John Carney II has a trio of races in his home state of Texas on tap.
The SawBlade.com Xiphos saw blade and South Plains Towing sponsored sprint car driver will compete on Saturday at Monarch Motor Speedway in Wichita Falls with the Sprint Car Bandits Series before tackling the West Texas Crude Nationals next Tuesday and Wednesday at West Texas Raceway in Lubbock.
Carney II has enjoyed success at both ovals, recently winning last year and in 2017 at Monarch Motor Speedway.
"I've been there a bunch," he said. "I have a lot of fans there. It's pretty fun to go there. The track has been different every time I've been. Sometimes it's dry and sometimes it's real heavy and rough. It's been slick to a cushion. It's been a little bit of everything. I've always been competitive there for whatever reason. I've been a little bit lucky, too. That always helps."
Carney II captured four triumphs at West Texas Raceway in 2017.
"When I first moved to Lubbock I ran locally and won quite a few races," he said. "The track closed for a while and it reopened two or three years ago. We've always ran pretty well. We have made a lot of good laps there. I'm really looking forward to racing with all of those guys next week."
It also doesn't hurt that West Texas Raceway is the closest track to Carney II.
"It's about three miles from the house," he said. "I don't race 305s very much anymore so I don't get to race close to home. It'll be nice getting that opportunity next week."
SEASON STATS –
4 races, 0 wins, 0 top fives, 0 top 10s, 1 top 15, 2 top 20s
UP NEXT –
Saturday at Monarch Motor Speedway in Wichita Falls, Texas, with the Sprint Car Bandits Series and Tuesday and Wednesday at West Texas Raceway in Lubbock, Texas, for the West Texas Crude Nationals
Shawn Miller – Inside Line Promotions – [email protected] | (541) 510-3663