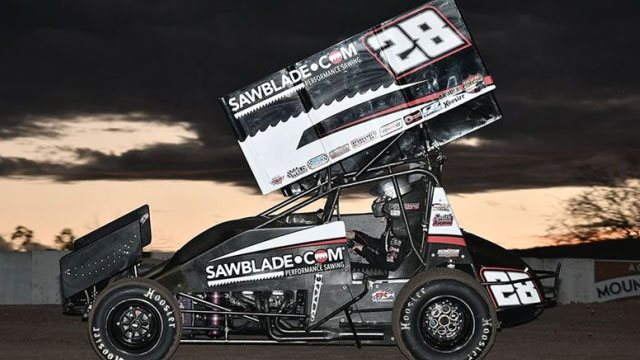 Inside Line Promotions – PETALUMA, Calif. (March 11, 2020) – Scott Bogucki captured his best result of the Lucas Oil ASCS National Tour season last Sunday at Petaluma Speedway, where he guided his SawBlade.com backed team to a sixth-place run during his first visit to the oval.
Bogucki maneuvered from eighth to fourth place in a heat race and he finished third in a qualifier to rank eighth in event points, lining him up on the outside of the fourth row for the main event.
"We were really good all night. We had the car tight enough to move forward. We didn't get bound up like everyone in the ruts. There was a restart with five laps to go. I got up to fourth, but it got called back. On the next restart I got tight, pulled a wheelie and lost momentum so someone got by me."
Bogucki's sixth-place result was his second top 10 of the season and proved to be a great way to cap the weekend in California, where the action began on a sour note last Friday when Bogucki made his debut at Merced Speedway in Merced.
"We got ran over in the heat and didn't finish because the front axle got broken. We had to run a B Feature and we ran from 17th to sixth. We were really good. We were rolling, but just came up short of a transfer. We had to take a provisional to start and park the main event."
Last Saturday's event at Placerville Speedway in Placerville rained out.
Bogucki has decided to take this weekend off before the ASCS National Tour resumes March 20-21 at Devil's Bowl Speedway in Mesquite, Texas, during the 47th annual Spring Nationals.
QUICK RESULTS –
March 6 – Merced Speedway in Merced, Calif. – Heat race: DNF (5); B Main: 6 (17).
March 8 – Petaluma Speedway in Petaluma, Calif. – Heat race: 4 (8); Qualifier: 3 (3); Feature: 6 (8).
SEASON STATS –
4 races, 0 wins, 0 top fives, 2 top 10s, 3 top 15s, 3 top 20s
UP NEXT –
March 20-21 at Devil's Bowl Speedway in Mesquite, Texas, for the 47th annual Spring Nationals with the Lucas Oil ASCS National Tour
Article Credit: Inside Line Promotions
Inside Line Promotions – 541-510-3663 or [email protected] http://www.InsideLinePromotions.com