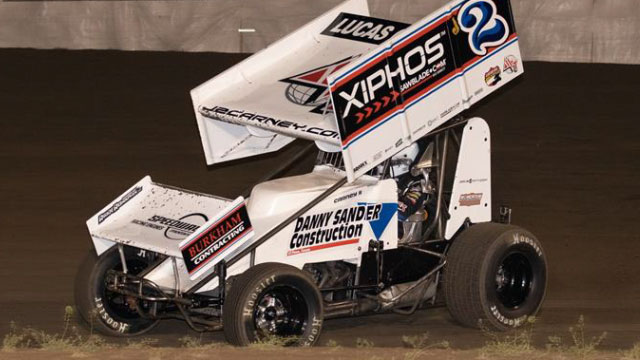 (Photo by Jason Tucker Photos)
Inside Line Promotions– PETALUMA, Calif. (March 10, 2020) – John Carney II survived a tough weekend in California, where he ran into triple misfortune.
"A bad draw, heavy track conditions and then the second night we were just off"
The SawBlade.com Xiphos saw blade and Burkham Contracting backed driver kicked off a scheduled tripleheader last Friday at Merced Speedway in Merced. He advanced a position to finish fourth in a heat race before a crash in a qualifier doomed the remainder of his night.
"We had really good speed the first night, but we didn't have a good pill draw. We passed a car in the heat and that put us on the front row of a qualifier. The car wasn't quite perfect and the guy in second ran me down. When he went to pass me we got too close and made contact. It knocked the front end out."
Carney II wasn't able to finish the race and was relegated toward the back of a B Main, which only transferred the top three to the main event.
"Unfortunately, there weren't any cautions in the B Main. We made up a lot of ground. We were approaching a transfer spot, but it was too little too late."
Carney II rallied from 11th to fifth, which was two positions shy of making the A Main.
Saturday's event at Placerville Speedway in Placerville rained out. The weekend concluded on Sunday at Petaluma Speedway, where Carney II finished seventh in a heat race and ninth in a B Main.
"That's a really narrow track and stays heavy right in the middle all night. It's a difficult track to pass on. We didn't quite have the handle on it either. We've had a good car three of the first four nights this season. Sunday night the track position and setup weren't ideal given the track conditions."
Carney II will spend the next two weekends racing at Devil's Bowl Speedway in Mesquite, Texas. He will pilot a car for Scott Brown this Friday and Saturday during the Texas 305 RaceSaver Sprint Nationals before returning to his sprint car on March 20-21 during the 47th annual Spring Nationals with the Lucas Oil ASCS National Tour.
QUICK RESULTS –
March 6 – Merced Speedway in Merced, Calif. – Heat race: 4 (5); Qualifier: DNF (1); B Main: 5 (11).
March 8 – Petaluma Speedway in Petaluma, Calif. – Heat race: 7 (5); B Main: 9 (10).
SEASON STATS –
4 races, 0 wins, 0 top fives, 0 top 10s, 1 top 15, 2 top 20s
UP NEXT –
Friday and Saturday at Devil's Bowl Speedway in Mesquite, Texas, for the Texas 305 RaceSaver Sprint Nationals
Shawn Miller – Inside Line Promotions – [email protected] | (541) 510-3663