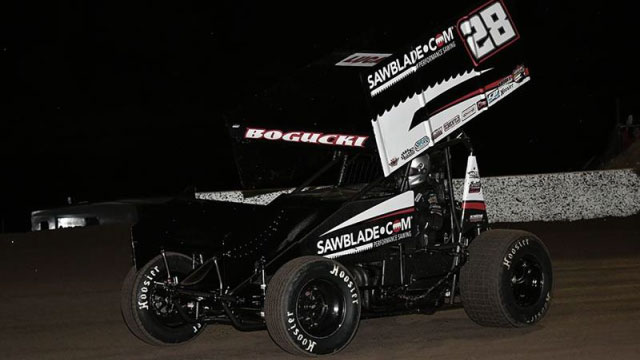 (Photo by Ben Thrasher)
Inside Line Promotions – PEORIA, Ariz. (March 4, 2020) – When it's early in the season many sprint car racers like to experiment with setups and Scott Bogucki is no exception. The driver of the SawBlade.com sponsored sprint car tried some new things last weekend during the season-opening doubleheader for the Lucas Oil ASCS National Tour with mixed results.
It began on Friday at Canyon Speedway Park, where Bogucki advanced from eighth to fourth place in a heat race and from fifth to fourth place in a qualifier. He then charged from the 13th starting spot into the top eight before fading after a caution to a 15th-place finish in the main event.
"We were really good early, I was ripping the top and we had a yellow and my tire sealed over. That's the first time that has ever happened to me. It was a tire from last year that sat all winter. I don't know if that was the cause, but on the restart I just spun my tires and fell back."
Bogucki's night on Saturday began with a second-place run in both his heat race and qualifier, placing him fifth on the feature starting grid.
"We tried some things setup-wise we have never done and we went backwards to a ninth-place finish, we will get our basic setup back on the car and make our normal adjustments."
Bogucki is heading west for a trio of ASCS National Tour shows this weekend in California. It begins Friday at Merced Speedway in Merced followed by Placerville Speedway in Placerville on Saturday and Petaluma Speedway in Petaluma on Sunday.
"I ran Placerville a couple of years ago, but have never seen the other two tracks. The California tracks are bullrings and you have to get up on the wheel. Then we are off a couple of weeks before heading to Texas. I can't wait to get back to tracks in the Midwest that get slick and you get wing speed. Then we will really get going."
QUICK RESULTS –
Feb. 28 – Canyon Speedway Park in Peoria, Ariz. – Heat race: 4 (8); Qualifier: 4 (5); Feature: 15 (13).
Feb. 29 – Canyon Speedway Park in Peoria, Ariz. – Heat race: 2 (3); Qualifier: 2 (2); Feature: 9 (5).
SEASON STATS –
2 races, 0 wins, 0 top fives, 1 top 10, 2 top 15s, 2 top 20s
UP NEXT –
Friday at Merced Speedway in Merced, Calif.; Saturday at Placerville Speedway in Placerville, Calif.; and Sunday at Petaluma Speedway in Petaluma, Calif., with the Lucas Oil ASCS National Tour
Article Credit: Inside Line Promotions
Inside Line Promotions – 541-510-3663 or [email protected] http://www.InsideLinePromotions.com