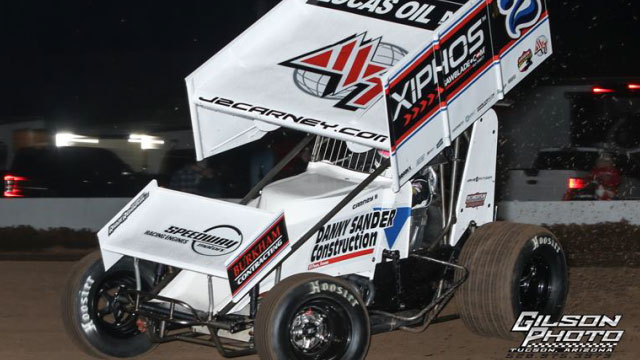 Inside Line Promotions – PEORIA, Ariz. (March 3, 2020) – John Carney II was in contention for the feature triumph during the Lucas Oil ASCS National Tour season opener last Friday at Canyon Speedway Park.
The SawBlade.com Xiphos saw and Mesilla Valley Transportation sponsored driver placed second in a heat race before he won a qualifier from third, which ranked Carney II second in points out of more than 50 drivers. That lined him up on the outside of the front row for the 25-lap main event.
"It started off great, I had a really good run on (Matt) Covington and thought I was going to be in the lead within the next two or three laps. I clipped an infield tire and rode a wheelie. I had to get out of the gas, which broke my momentum. I got sandwiched between two cars at the end of the straightaway and got turned around. That was a letdown, but we didn't get anything torn up and passed a few cars by the end of the race."
Carney II ran second for the first half of the race before the incident relegated him to the back of the field. He rebounded for an 18th-place result.
The doubleheader concluded on Saturday. Carney II finished fifth in a heat race before advancing from eighth to sixth place in a qualifier and from fifth to second place in a B Main to garner a spot into the main event.
"The track was about the same the second night, the hard thing about ASCS is it's not where you draw, it's who you draw. On the start of the heat I couldn't go anywhere. I was boxed in. By the time I got going the row that started behind me got around me. Then we got put in the second qualifier, which was stacked with all star drivers so again it was not where you started but who you start with. I did pass a couple of cars there and I passed a few more in a B Main."
Carney II continued to move forward in the A Main before the track took rubber, maneuvering from 20th to 13th.
Three tracks in California are up next – Friday at Merced Speedway in Merced; Saturday at Placerville Speedway in Placerville; and Sunday at Petaluma Speedway in Petaluma – for Carney II and the ASCS National Tour.
"They are pretty much the only three tracks I haven't raced at in California, as far as being at a new track we run so many different tracks that it's really not that different of a weekend. There's a lot of talent in Northern California so it will be fun to race with those guys. We have the same goal as any weekend. If we can keep the car on the track pointed forward and passing cars every time we're on the track that's all we can ask for."
QUICK RESULTS –
Feb. 28 – Canyon Speedway Park in Peoria, Ariz. – Heat race: 2 (2); Qualifier: 1 (3); Feature: 18 (2).
Feb. 29 – Canyon Speedway Park in Peoria, Ariz. – Heat race: 5 (5); Qualifier: 6 (8); B Main: 2 (5); Feature: 13 (20).
SEASON STATS –
2 races, 0 wins, 0 top fives, 0 top 10s, 1 top 15, 2 top 20s
UP NEXT –
Friday at Merced Speedway in Merced, Calif.; Saturday at Placerville Speedway in Placerville, Calif.; and Sunday at Petaluma Speedway in Petaluma, Calif., with the Lucas Oil ASCS National Tour