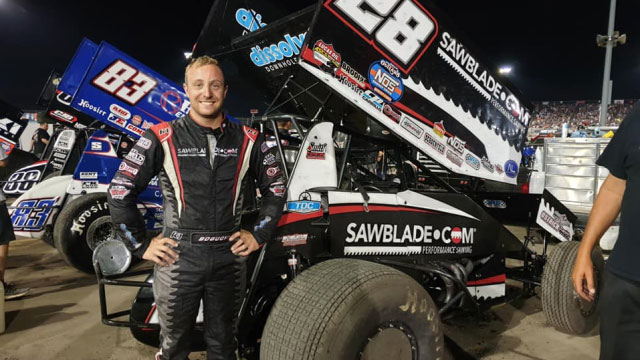 (Photo by Wildlight Motorsports Photography)
Inside Line Promotions – KNOXVILLE, Iowa (Feb. 27, 2020) – The Lucas Oil ASCS National Tour season begins this weekend in Arizona for Scott Bogucki and his SawBlade.com backed team, which invades Canyon Speedway Park in Peoria on Friday and Saturday.
"I've never even seen it before, I don't believe I've been to the state of Arizona other than a layover a couple of times (while flying)."
Bogucki noted that he recently watched a video of a non-wing race at the 3/8-mile oval.
"It was real slick with a gnarly curb, it looks like a lot of fun.
"I'm really, really excited to get the season started. I'm back in familiar equipment. There will be a lot of good cars there, but if I can run in the top five I'd be really happy. That'd be excellent. If we carry the speed we had in Texas at the end of last year we should be a top-three car, but I'd be happy with top fives to start the season."
Bogucki is coming off a fifth-place finish in the 2019 ASCS National Tour championship standings.
"I learned that more and more each year, I look back at the end of the year and where I finish in the points and go back through the races I didn't finish or something happened and I lost five or six points. You add those points to the tally and you see where you should end up. It's like a kick in the gut. You have to run hard, but not so hard to jeopardize anything long term."
Following the two races in Arizona this weekend Bogucki will venture to California for a trio of ASCS National Tour races before he makes his 410ci winged sprint car season debut during World of Outlaws NOS Energy Drink Sprint Car Series races in Texas next month.
"I want to run at least 20 410 races this year, including with the Outlaws in Paige and Kilgore, plus we'll run the 360 at some other races like Jackson a few times and Knoxville as often as we can when we're in the area. My goal is to race 75 times this year, which is almost double the number I've done in a single year."
UP NEXT –
Friday and Saturday at Canyon Speedway Park in Peoria, Ariz., with the Lucas Oil ASCS National Tour
Article Credit: Inside Line Promotions
Inside Line Promotions – 541-510-3663 or [email protected] http://www.InsideLinePromotions.com