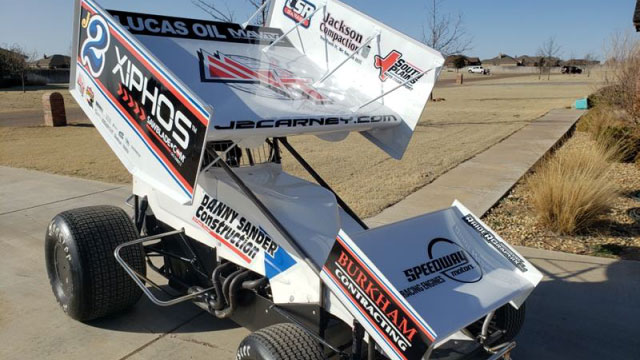 Inside Line Promotions – EL PASO, Texas (Feb. 24, 2020) – The 2020 season begins this week in Arizona for John Carney II, who is aiming to capture his first career Lucas Oil ASCS National Tour championship.
The SawBlade.com Xiphos saw and Danny Sander Construction backed driver invades Canyon Speedway Park in Peoria on Friday and Saturday for the first two shows of a 50-race schedule.
"(The goal is) to win, we go into every race with the intention of winning, but if we can come out with a pair of top fives we'll be happy with the weekend."
Carney II noted that he has three career starts at the dirt oval. The most recent was an ASCS National Tour doubleheader in November 2012 following a regional race in which he posted a career-best fourth-place finish at the track in 2011.
"I ran a regional show there eight or nine years ago and I ran the national event the last time they were there, I've been fast and had fast cars there, but had some unfortunate luck.
"In the regional race I was leading it and lapping a car. I got turned into the infield and turned over. I came back to a top five. The national show I was running in a lock-in spot the first night and got turned over with a lapped car."
Carney II enters this season on the heels of his ASCS National Tour Rookie of the Year Award. He finished sixth in the championship standings after posting one win, 13 top fives and 20 top 10s in 29 ASCS National Tour features last year.
UP NEXT –
Friday and Saturday at Canyon Speedway Park in Peoria, Ariz., with the Lucas Oil ASCS National Tour
Shawn Miller – Inside Line Promotions – [email protected] | (541) 510-3663