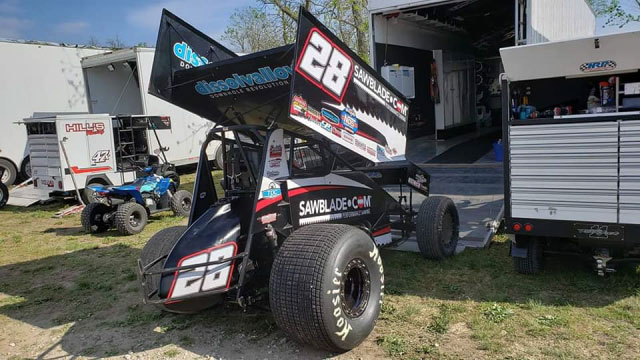 (Photo by Paul Arch)
Inside Line Promotions – KNOXVILLE, Iowa (Feb. 19, 2020) – Australian sprint car driver Scott Bogucki returned to the United States earlier this month and has been a one-man working machine getting prepared for the 2020 season with the ASCS National Tour.
Bogucki and his SawBlade.com sponsored team will kick off the season Feb. 28-29 at Canyon Speedway Park in Peoria, Ariz.
Last season Bogucki finished fifth in the series championship standings, scoring three victories along the way. He is eager to get 2020 underway after he and primary sponsor SawBlade.com inked their partnership for a third straight year.
"I'm lucky to have such a great relationship with the people at SawBlade. To be able to have them support me and believe in me for a third straight year is humbling. Chris, Bubba and Bridgette came on board with the team two years ago and quite simply without their support racing the ASCS National Tour would not have been possible. I'm very proud to be associated with such great people with such a great product."
"If you look at the growth of this team from 2018 to 2019 it's just phenomenal. It's not where I want us to be, but I'm committed to use 2019 as a stepping stone to bigger and better things in 2020."
Bogucki, the 2018 ASCS National Tour Rookie of the Year, is coming off a huge win in his native Australia. He claimed the opening night of the 48th annual Grand Annual Sprintcar Classic at Premier Speedway in Warrnambool last month.
"I don't think a lot of people realize how tough the ASCS National Tour is. When I got that 410 win at Premier I think a lot of my friends in Australia got an understanding. That was a really big win for me to start the year."
With the departure of four-time ASCS champion Sam Hafertepe Jr. to the Ollie's Bargain Outlet All Star Circuit of Champions Presented by Mobil 1 for 2020, the chase for the ASCS title is wide open.
"With Sam leaving it means one less really, really good guy we have to beat, but there's some very talented returning drivers and some new ones so it will be just as tough. Realistically, we should have finished in the top three in points last season. That one trip in Missouri when I got hurt cost us. We went from eighth in points in 2018 to fifth last year so our goal this year is to win the championship and reward our great sponsors."
Since returning to the United States Bogucki has been "thrashing" pretty much on his own to get ready for the opening month of racing.
"I have the back-up car ready and just a few things to button up on the primary car. We got a new truck and trailer and that required a lot of organizing and work."
Bogucki often times is on the road, driving the rig and working on the race car himself. He will have long-time friend Dillon Paddock joining the team in Arizona as well as the following races in California.
"Dillon is a huge help and I have another long-time friend, Jared Sewell, coming out to help early on. I really couldn't do this without some great people coming on board along the way. When you have to set the car up, drive the car, then wash and maintenance the car and drive the rig by yourself you can get burned out really quick. To be able to get people to jump in every now and then is huge for me."
UP NEXT –
Feb. 28-29 at Canyon Speedway Park in Peoria, Ariz., with the Lucas Oil ASCS National Tour
Article Credit: Inside Line Promotions
Inside Line Promotions – 541-510-3663 or [email protected] http://www.InsideLinePromotions.com