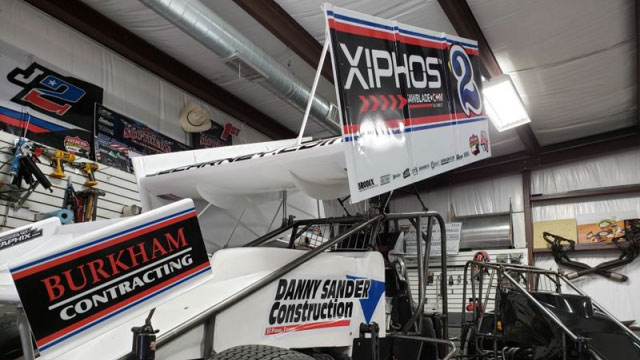 Inside Line Promotions – EL PASO, Texas (Feb. 18, 2020) – John Carney II returns to the road in 2020 on the heels of a successful first year with the ASCS National Tour.
Carney II earned the Rookie of the Year Award in 2019 and his sophomore season with the top 360ci winged sprint car tour welcomes a new partner in SawBlade.com.
"Everything came together where SawBlade.com wanted to work with me on the motor sports side and felt I could help market their new Xiphos saw," he said. "I'm glad to welcome them on board this year along with my continued sponsors that have supported me throughout the years."
Carney II finished sixth in the ASCS National Tour championship standings last year after earning one win, 13 top fives – tied for the third most – and 20 top 10s – tied for the fifth most – in 29 features.
"It's crazy that I was even a rookie last year," he said. "I've always wanted to run the ASCS National Tour. Last year completed 20 years of racing sprint cars. It was neat to finally get out and race at a professional level all year and run for the series points.
"The first half of the year there were quite a few new tracks we ran well at. We were second in points for a long time and then slipped to third. At the end of the year, at tracks I was familiar with where I felt I could climb back into the points, we slipped. We had some unusual failures and a lot of bad luck. There were four or five weekends where it rained and the track conditions weren't promising for passing. The end of the year was kind of tough."
With the return of several long-time partners and the addition of SawBlade.com, Carney II is excited to get the ASCS National Tour season underway Feb. 28-29 at Canyon Speedway Park in Peoria, Ariz.
"I don't see having a whole bunch of bad luck, but of course it is racing," he said. "We're prepared to take advantage of any opportunity and I think we'll finish further up in the points. We have all the tools we need and all the right sponsors. We're going to go out and chase this championship."
Shawn Miller – Inside Line Promotions – [email protected] | (541) 510-3663