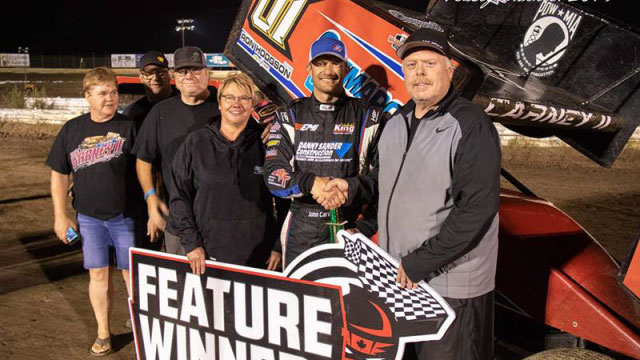 Lonnie Wheatley, EL PASO, Texas (September 18, 2019) – It's safe to say that El Paso, TX, native John Carney II is going into this weekend's Jesse Hockett/Daniel McMillin Memorial at Wheatland Speedway on a bit of a roll.
Sitting fifth in ASCS National Tour points as the series gets back into action with the three-night stand on Thursday, Friday and Saturday, Carney rides a wave of three consecutive wins into the weekend.
And he has done it in two different countries with a two-night sweep at Edmonton, Alberta, Canada's Castrol Raceway on September 6-7 and then a 305-ci Sprint Car score on Saturday night at Fort Worth's Texas Motor Speedway.
Carney made his first journey to Castrol Raceway to drive for Arizona's Kaylene and Alan Verville and made the most of it with wins on both Friday and Saturday night.
"We started second both nights and led every lap of both features," Carney says. "The car handled really well and the motor was strong, everything went about as well as it could have."
Carney enjoyed his first Canadian outing.
"I liked the track and like the format they used," Carney explains. "It's fun to go do something a little different just to change things up a little bit."
Carney's 305-ci effort aboard David Luckie's No. 45 Sprint Car on Saturday night was a last-minute decision.
"It was an uplanned deal, we just kind of decided that I would drive the car on Saturday night after David drove it on Friday," Carney explains.
"I kind of wish I had run both nights though, I think I would have won a lot easier on Saturday night," Carney laughs. "As it was, I barely got by (Jake) Bubak at the end. It was the first time in a 305 in quite a while, so it felt good to know I can still get going pretty well in one of those."
This weekend, it's back to ASCS National Tour competition aboard the Sander Construction/South Plains Auto Transport/Mesilla Valley Transportation No. J2 Sprint Car.
And Carney has found the Speedway to his liking in the past.
"We have had some podiums there and hopefully we can put ourselves in position for more this weekend," Carney explains. "Last year, I felt like we could have won this race. It's all about getting through the heats and qualifiers and getting into position to win it."
The Jesse Hockett/Daniel McMillin Memorial gets under way with the first of three full nights of action on Thursday.
John Carney Racing is made possible by the support of invaluable partners including Danny Sander Construction, South Plains Auto Transport, Mesilla Valley Transportation, Jackson Compaction, Vado Speedway Park, CSR Garage, Momentum Racing Suspensions, Performance Plus, Performance Motor Coach, Raider Graphix, MSD Ignition, Joe Hunt Magnetos and Bell Helmets.
Quick Stats: 32 Races, 6 Wins, 18 top-fives, 22 top-tens.
Next Up: ASCS National Tour "Jesse Hockett/Daniel McMillin Memorial" at Wheatland, Missouri's Lucas Oil Speedway on Thursday, Friday and Saturday.
Keep Track: Keep track of John Carney II's on-track action including schedule and results on Facebook at https://www.facebook.com/JohnCarneyRacing/.
If you would like John Carney Racing press releases e-mailed directly to you, send your e-mail address to Lonnie Wheatley at [email protected].
Penning the recurring series of "The Wheatley Chronicles" articles on www.sprintcarmania.com, Lonnie Wheatley provides media, public relations and more for select tracks, drivers and events. For more information, Wheatley may be contacted at [email protected].