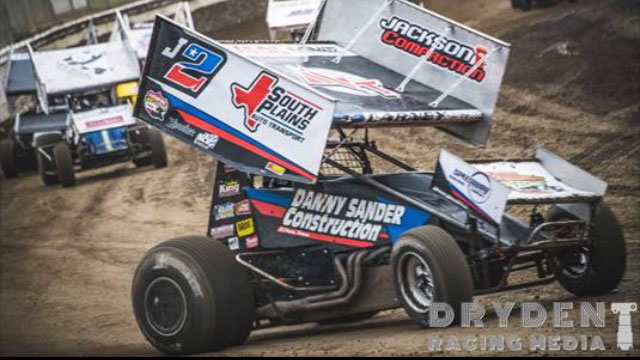 Lonnie Wheatley, EL PASO, Texas (September 5, 2019) – John Carney II is in or a change of pace this weekend after a rousing run in ASCS National Tour competition from deep in the pack in Sunday night's Lake Ozark Speedway 360 Nationals finale.
Maintaining his position among the top five in ASCS National Tour points with a run from 16th to fourth, Carney is in Canada this weekend for competition at Edmonton's Castrol Raceway aboard the Arizona-owned the Kaylene and Alan Verville-owned No. 01 Sprint Car.
"I've never been up here before, so it should be something different for sure," Carney says. "It looks like it should be a pretty racy place, I'm looking forward to it."
Carney races Friday night atop the 3/8-mile clay oval.
The El Paso native makes his first Canada start after a pair of nights in Missouri at Lake Ozark Speedway last Saturday and Sunday as well as his first trip to West Burlington, Iowa's 34 Raceway on Friday.
Carney kicked off the weekend triple with a tenth-place run at 34 Raceway. Then, following a challenging Saturday night, Carney finished out the weekend in strong form by rallying from 16th to fourth.
Saturday presented challenges that resulted in 16th-place finish aboard the Sander Construction/South Plains Auto Transport/Mesilla Valley Transportation No. J2 Sprint Car.
"We had a lot of unusual things happen," Carney recalls. "The track was really heavy which made it tough, then the nose wing mounts broke, a sideboard came off, we cut a left front tire, it was just a different kind of night."
Carney bounced back on Sunday with a Hard Charger effort that netted a top-five finish.
"We went 16th to fourth in a green-to-checkered race," Carney says. "It's good to know we have a car that can compete, we just had some unusual failures the first night at Lake Ozark."
While Carney takes in a night of Canadian action, his next ASCS National Tour action will take place on September 19-21 at Wheatland, Missouri's Speedway at the Hockett/McMillin Memorial.
John Carney Racing is made possible by the support of invaluable partners including Danny Sander Construction, South Plains Auto Transport, Mesilla Valley Transportation, Jackson Compaction, Vado Speedway Park, CSR Garage, Momentum Racing Suspensions, Performance Plus, Performance Motor Coach, Raider Graphix, MSD Ignition, Joe Hunt Magnetos, and Bell Helmets.
Quick Stats: 29 Races, 3 Wins, 15 top-fives, 19 top-tens.
Next Up: Castrol Raceway in Edmonton, ALB, Canada on Friday.
Keep Track: Keep track of John Carney II's on-track action including schedule and results on Facebook at https://www.facebook.com/JohnCarneyRacing/.
If you would like John Carney Racing press releases e-mailed directly to you, send your e-mail address to Lonnie Wheatley at [email protected].
Penning the recurring series of "The Wheatley Chronicles" articles on www.sprintcarmania.com, Lonnie Wheatley provides media, public relations and more for select tracks, drivers and events. For more information, Wheatley may be contacted at [email protected].