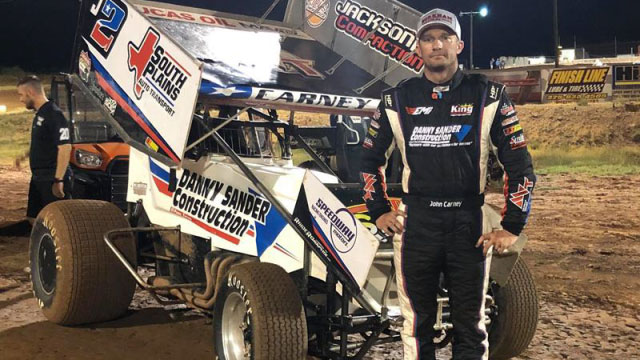 Lonnie Wheatley, EL PASO, Texas (August 27, 2019) – Firmly entrenched among the top five in ASCS National Tour points, John Carney II is ready for a weekend triple throughout Iowa and Missouri this weekend aboard the Sander Construction/South Plains Auto Transport/Mesilla Valley Transportation No. J2 Sprint Car.
The action begins with Carney's first visit to West Burlington, Iowa's 34 Raceway on Friday before shifting to Eldon, Missouri's Lake Ozark Speedway for the Tenth Annual LOS 360 Sprint Car Nationals on Saturday and Sunday.
While it will be Carney's maiden voyage at 34 Raceway, he scored a National Tour win at Lake Ozark Speedway earlier this year.
"I'm looking forward to West Burlington, it looks pretty neat, should be a fun track to race on" "And we were really good at Lake Ozark last time. We have a different car and different motor from the last time, but I think we're dialed in about right."
Carney enters the weekend sitting fourth in points with the Lake Ozark triumph in May among his ten top-fives and 15 top-tens in series competition.
Carney goes into the weekend after posting a runner-up finish in ASCS Lone Star Region action last weekend at Texas' Abilene Speedway after the scheduled National Tour event in West Memphis, AR, fell victim to excessive rain.
It was an Abilene Speedway unlike Carney had seen in the past.
"It's usually dry there," Carney says. "It was tacky and heavy all night and got faster as the night went on. I couldn't get the car free enough."
Starting from the pole position, Carney ran second throughout after a questionable start and finished out the night with runner-up honors.
"Tony (Bruce, Jr.) jumped the start pretty bad and they didn't call it back, which I probably would do the same if I knew they wouldn't call it back," Carney explains. "It was wide open from there on, all you could do was follow and hope for a mistake."
With another Regional shakedown in the books, it's back to National action this weekend.
John Carney Racing is made possible by the support of invaluable partners including Danny Sander Construction, South Plains Auto Transport, Mesilla Valley Transportation, Jackson Compaction, Vado Speedway Park, CSR Garage, Momentum Racing Suspensions, Performance Plus, Performance Motor Coach, Raider Graphix, MSD Ignition, Joe Hunt Magnetos and Bell Helmets.
Quick Stats: 26 Races, 3 Wins, 14 top-fives, 17 top-tens.
Next Up: ASCS National Tour 34 Raceway in West Burlington, IA, on Friday and Lake Ozark Speedway near Eldon, MO, on Saturday and Sunday.
Keep Track: Keep track of John Carney II's on-track action including schedule and results on Facebook at https://www.facebook.com/JohnCarneyRacing/.
If you would like John Carney Racing press releases e-mailed directly to you, send your e-mail address to Lonnie Wheatley at [email protected].
Penning the recurring series of "The Wheatley Chronicles" articles on www.sprintcarmania.com, Lonnie Wheatley provides media, public relations and more for select tracks, drivers and events. For more information, Wheatley may be contacted at [email protected].