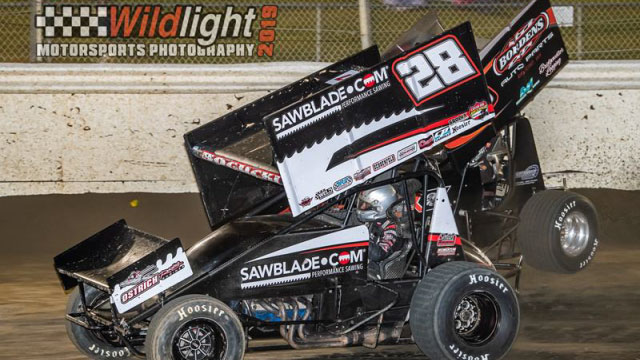 (Photo by Wildlight Motorsports Photography)
Inside Line Promotions – NASHVILLE, Tenn. (Aug. 20, 2019) – Scott Bogucki is excited for his first-ever visit to Riverside International Speedway in West Memphis, Ark., this Saturday when his SawBlade.com sponsored team will compete with the ASCS National Tour. He said :
"I've never seen Riverside, but talking with other drivers you either hate it or love it. From what I've heard it's a little bullring that you can rip around the fence and that's what I grew up racing on so I'm excited."
Bogucki has spent the last couple of weeks since the Knoxville Nationals with family and friends, including seeing the sights of Nashville with his family prior to this Saturday's race.
"After Knoxville it was nice to relax and have some fun, but I'm ready to get back to racing"
Bogucki heads into Saturday's event ranked third in the ASCS National Tour championship standings.
Bogucki is just as thrilled for an opportunity for the fans as he has teamed up with SawBlade.com to save race fans money on the great SawBlade products. To learn more, visit https://www.sawblade.com/4/scott.
"It's a great opportunity for fans to get the best products out there. The discounts detailed on the website have been applied to the affected products site-wide. You have to log in and create an account to receive your discount status. Any product with a flag has been price reduced."
SEASON STATS –
25 races, 2 wins, 8 top fives, 15 top 10s, 17 top 15s, 20 top 20s
"It's so cool to be involved with SawBlade and what they are doing not only for my team, but for race fans with the savings program as well. They are taking full advantage of their involvement in racing."
Article Credit: Inside Line Promotions
Inside Line Promotions – 541-510-3663 or [email protected] http://www.InsideLinePromotions.com