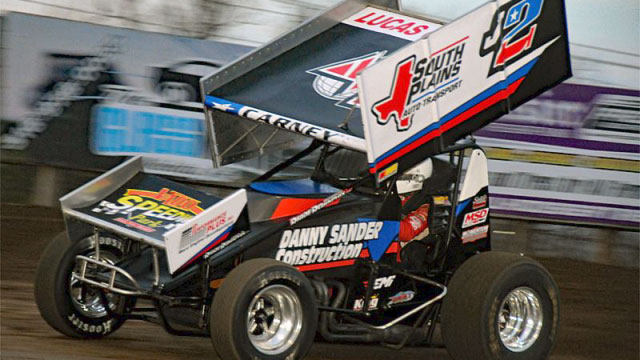 Lonnie Wheatley, EL PASO, Texas (August 1, 2019) – With Montana in the rearview mirror, John Carney II is set for Knoxville 360 Nationals battle at Knoxville Raceway this weekend aboard the Sander Construction/South Plains Auto Transport/Mesilla Valley Transportation No. J2 Sprint Car.
Currently among the top five in ASCS National Tour points, the El Paso will take in the Thursday night qualifying portion of the event that sets the stage for Saturday's championship finale.
After a strong qualifying night outing last year, engine woes slowed Carney's Saturday effort.
"We have always had moments where we have good speed at Knoxille, it's just a matter of putting the whole thing together," "I feel good with where our team is at right now, so I think we can put together a really good weekend."
Carney takes on Knoxville following an idle weekend that was preceded by a pair of ASCS National Tour weekends in Montana.
"We had a good run going in that last one at Billings but then got torn up by a lapped car," "So rather than scramble around to try to run last weekend, I just felt it was best to make sure we had everything in order and know that we're ready for 360 Nationals."
Carney's first Montana adventures began at Gallatin Speedway's Grizzly Nationals in Belgrade on July 12-13.
Carney earned a fourth-place finish in the Friday night opener before the Saturday portion fell victim to rain.
After racing from seventh to second in his heat race, Carney started the feature in fourth and finished in fourth.
"It went from dry to taking rubber, it got real abrasive really quick," "We started fourth and went to searching for the rubber right away."
Shifting to Bilings' Big Sky Speedway on July 19-20, Carney climbed from 16th to 11th in the Friday night feature and was battling among the leaders on Saturday until an incident with a lapped car caused race-ending damage.
"We got better as the night went on Friday, then we were going really well on Saturday until getting collected,"
With a weekend off to make final preparations, Carney is ready to contend at this weekend's Knoxville 360 Nationals.
John Carney Racing is made possible by the support of invaluable partners including Danny Sander Construction, South Plains Auto Transport, Mesilla Valley Transportation, Jackson Compaction, Vado Speedway Park, CSR Garage, Momentum Racing Suspensions, Performance Plus, Performance Motor Coach, Raider Graphix, MSD Ignition, Joe Hunt Magnetos and Bell Helmets.
Quick Stats: 21 Races, 2 Wins, 12 top-fives, 14 top-tens.
Next Up: Knoxville 360 Nationals on Thursday and Saturday at Knoxville Raceway in Knoxville, IA.
Keep Track: Keep track of John Carney II's on-track action including schedule and results on Facebook at https://www.facebook.com/JohnCarneyRacing/.
If you would like John Carney Racing press releases e-mailed directly to you, send your e-mail address to Lonnie Wheatley at [email protected].
Penning the recurring series of "The Wheatley Chronicles" articles on www.sprintcarmania.com, Lonnie Wheatley provides media, public relations and more for select tracks, drivers and events. For more information, Wheatley may be contacted at [email protected].