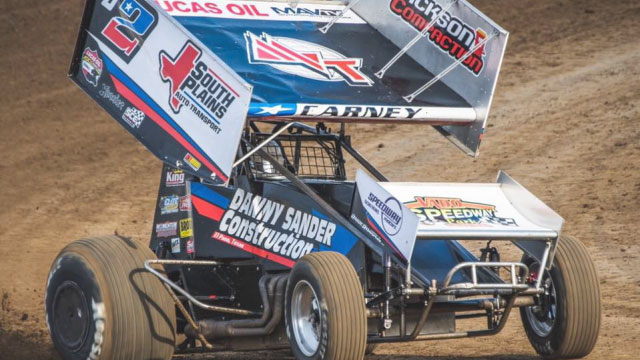 Lonnie Wheatley, EL PASO, Texas (July 12, 2019) – John Carney II is in for quite the grizzled time with this weekend's ASCS National Tour Grizzly Nationals at Gallatin Speedway in Belgrade, Montana on Friday and Saturday.
It will mark Carney's first visit to the Montana dirt oval. Carney said of victory lane festivities that include a live grizzly bear :
"It will be interesting for sure, it will probably be the only place I ever go where standing in victory lane actually seems a little more dangerous than being in the racecar,"
Carney enters the weekend after a Fred Brownfield Classic at Elma, Washington's Grays Harbor Raceway that included a strong runner-up showing on Friday, June 28, and then a 16th-place finish in the Saturday night finale.
Carney started the Elma weekend out in strong fashion with a heat race win and then nabbed runner-up honors in the feature after starting third.
"We were able to take advantage of a good pill draw," "We were in good position to get the win in the feature. I was ripping around the top, I'd reel him (Devon Borden) in and then a yellow would come out. Without the yellows, I think we could have won. But he did drive a really good race."
Saturday netted different results on a different track.
"It was day and night, the track was completely different and we drew the back of a strong heat," Carney recalls. "And as the track slowed down, I just didn't have any grip on the straightaways."
Carney and crew continued working and raced into the feature through "B" Main action before finishing out the night in 16th.
"We made some changes and got better, but we started so far back and there wasn't much that you could do," "It was probably our worst night of the year, but we still put down one of the quickest laps of the night in the feature."
After an idle weekend, Carney sets his sights on a Grizzly this weekend.
John Carney Racing is made possible by the support of invaluable partners including Danny Sander Construction, South Plains Auto Transport, Mesilla Valley Transportation, Jackson Compaction, Vado Speedway Park, CSR Garage, Momentum Racing Suspensions, Performance Plus, Performance Motor Coach, Raider Graphix, MSD Ignition, Joe Hunt Magnetos and Bell Helmets.
Quick Stats: 18 Races, 2 Wins, 11 top-fives, 13 top-tens.
Next Up: ASCS National Tour at Gallatin Speedway in Belgrade, MT, on Friday and Saturday.
Keep Track: Keep track of John Carney II's on-track action including schedule and results on Facebook at https://www.facebook.com/JohnCarneyRacing/.
If you would like John Carney Racing press releases e-mailed directly to you, send your e-mail address to Lonnie Wheatley at [email protected].
Penning the recurring series of "The Wheatley Chronicles" articles on www.sprintcarmania.com, Lonnie Wheatley provides media, public relations and more for select tracks, drivers and events. For more information, Wheatley may be contacted at [email protected]