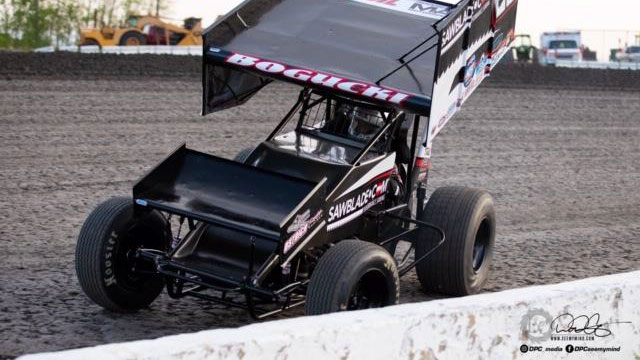 (Photo by DPC Media)
Inside Line Promotions – ELDON, Mo. (May 30, 2019) – Scott Bogucki had speed over the weekend at Lake Ozark Speedway, but a crash the second night left the team making repairs heading into the ASCS National Tour's upcoming Sizzlin' Summer Speedweek.
Last Saturday Bogucki drove the SawBlade.com backed machine around a few cars to finish fourth in his heat race, locking into the A Main. He was able to move from 14th to an 11th-place finish to cap the night.
"It wasn't that bad of a night. We drew bad and had to start at the tail of the heat, but we were able to pass a few cars. The track was difficult to pass on."
A better pill draw on Sunday started Bogucki third in his heat race. However, a fourth place-finish put him on the front row of the B Main, which he dominated.
"We changed every bar and shock on the car after the heat and the car was great. Saturday night I had to rim-ride and bounced off the wall a couple of times and I don't know if something was broke, but in the feature on Sunday something happened and I got into the wall, came back down and hit another car and it bent the front of the chassis.
"We got the car fixed and we are ready for Speedweek. I know what to expect this year as opposed to last year so I'm optimistic we can have some good runs. We got our first ASCS win at Devil's Bowl during Speedweek last year."
Speedweek kicks off this Saturday at Route 66 Motor Speedway in Amarillo, Texas. It features five races in eight days.
Bogucki, the 2018 ASCS National Tour Rookie of the Year, is currently sixth in the championship standings heading into Speedweek.
QUICK RESULTS –
May 25 – Lake Ozark Speedway in Eldon, Mo. – Heat race: 4 (6); Feature: 11 (14).
May 26 – Lake Ozark Speedway in Eldon, Mo. – Heat race: 4 (3); B Main: 1 (2); Feature: 22 (18).
SEASON STATS –
7 races, 0 wins, 1 top five, 3 top 10s, 5 top 15s, 5 top 20s
"We get to expose the SawBlade brand to a lot of people over the next week. My guys have this car figured out. We are organized and prepared and we expect great results."
Article Credit: Inside Line Promotions
Inside Line Promotions – 541-510-3663 or [email protected] http://www.InsideLinePromotions.com