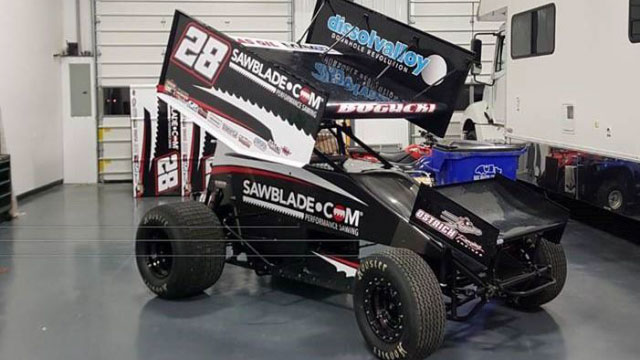 Inside Line Promotions – MESQUITE, Texas (April 18, 2019) – Scott Bogucki took the opportunity to shake down his sprint car last Friday night at Devil's Bowl Speedway during a World of Outlaws NOS Energy Drink Sprint Cars Series event.
Unfortunately, brake problems plagued the SawBlade.com backed team.
"We fought brake issues all night. It hurt us in qualifying and the heat. I couldn't slow down to hit my marks properly. In the feature not having brakes when the track takes rubber is a disaster because you have to slow down to turn into the rubber. You don't want to be sliding around in the rubber."
Despite a 17th-place finish, Bogucki was excited to get back in the swing of things.
"It felt good to make laps and get the feel for the car and we worked through some issues. We will replace the master cylinder and get ready for this weekend."
Bogucki plans to compete in the 410ci sprint car division this Saturday during the season opener for Knoxville Raceway in Knoxville, Iowa. Then he will get focused on the 2019 ASCS National Tour season, which is scheduled to begin next week after the scheduled season-opener rained out last month. Bogucki, 2018 ASCS National Tour Rookie of the Year said :
"Hopefully the weather starts straightening out and we get a bunch of racing in the coming wee. I'm excited to get back to Knoxville and see how we stack up. We stepped up our engine program over the winter so I'm pumped to get the ASCS season underway."
QUICK RESULTS –
April 12 – Devil's Bowl Speedway in Mesquite, Texas – Qualifying: 16; Heat race: 5 (6); Feature: 17 (13).
SEASON STATS –
1 race, 0 wins, 0 top fives, 0 top 10s, 0 top 15s, 1 top 20
"I want to thank SawBlade for all their support. They are a great group of people work with and we have a good relationship. I couldn't do this without them and I hope to continue our relationship for years to come."
Article Credit: Inside Line Promotions
Inside Line Promotions – 541-510-3663 or [email protected] http://www.InsideLinePromotions.com