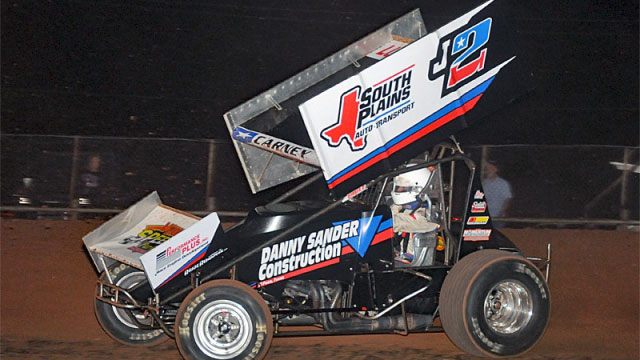 Lonnie Wheatley, EL PASO, Texas (March 11, 2019) – It's something that the El Paso, TX, hotshoe has been gearing up for over the past several years.
Now is the time, as John Carney II is set to tackle the entire ASCS National Tour in 2019 in pursuit of the $50,000 championship aboard the Sander Construction/South Plains Auto Transport/Mesilla Valley Transportation No. J2 Sprint Car.
"I'm really excited about running the whole thing for the first time," "It's something that I've wanted to do for a while now. We've been building toward this for a while now and everything has come together really well over the winter."
It all gets started on a high-speed clay oval that Carney has found to be very much to his liking with this weekend's 46th Annual Spring Nationals at the storied Devil's Bowl Speedway in Mesquite, TX, on Friday and Saturday.
It's the site where Carney captured the first of his three ASCS National Tour triumphs at the 2016 edition of the Winter Nationals. Carney backed it up atop the fast, half-mile clay oval with a preliminary win the following year before settling for runner-up honors in the 2017 finale of the Winter Nationals.
"Devil's Bowl has been good for us," "In fact, it seems like we've locked in most of the times that we have been there in the last several years."
Carney's Devil's Bowl prowess is evident with a dozen finishes among the top six in just 18 starts atop the high-banked oval over the past five seasons.
The schedule that awaits beyond this weekend on the ASCS National trail includes approximately 45 nights of action at 27 different tracks throughout a dozen tracks ranging from Pennsylvania to Washington state.
"Aside from the tracks in the northwest, I've been to most of the tracks at some point," "We usually go pretty well on tracks that we haven't seen, so I'm pretty confident that we won't have any hangups on any of the new tracks that we go to."
In addition to Carney's three ASCS National Tour triumphs, he has added more than a dozen Regional wins as well as countless 305-ci triumphs in recent years to ready himself for his first tour of duty with the ASCS National Tour.
Carney rounded up a handful of wins last year including an ASCS Southwest Regional triumph while also finishing seventh in ASCS Speedweek points and then capturing runner-up honors in Oregon's "Speedweek Northwest" points.
Now, he goes after the ASCS National Tour crown.
"I'm pumped, we're ready to get things going on the right foot this weekend,"
John Carney Racing is made possible by the support of invaluable partners including Danny Sander Construction, South Plains Auto Transport, Mesilla Valley Transportation, Jackson Compaction, Vado Speedway Park, CSR Garage, Momentum Racing Suspensions, Performance Plus, Performance Motor Coach, Raider Graphix, MSD Ignition, Joe Hunt Magnetos, and Bell Helmets.
Next Up: ASCS National Tour at the 46th Annual Devil's Bowl Speedway Spring Nationals in Mesquite, TX, on Friday and Saturday.
Keep Track: Keep track of John Carney II's on-track action including schedule and results on Facebook at https://www.facebook.com/JohnCarneyRacing/.
If you would like John Carney Racing press releases e-mailed directly to you, send your e-mail address to Lonnie Wheatley at [email protected]