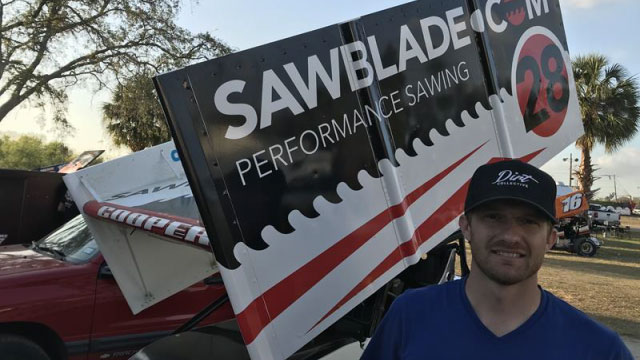 Inside Line Promotions – GIBSONTON, Fla. (Feb. 21, 2018) – The Ronald Laney Memorial King of the 360s event last weekend left John Carney II chomping at the bit for a redo behind the wheel of the SawBlade.com backed Cooper Motorsports sprint car.
The tripleheader, which was hosted by East Bay Raceway Park, offered the first opportunity for Carney II to pilot the machine. The event began on Thursday with Carney II advancing from ninth to seventh place in a heat race before he placed third in a B Main. That locked him into the A Main, in which the team ended 21st.
On Friday Carney II fell victim to another driver's error in his heat race.
"On the first lap of the heat a guy slid under me and right into the left side of the car and turned me over. It seemed minor, but when we got back to the pits the rear end and front end were busted up.
"On Thursday we had steering issues and we thought it was the pump, but Friday we found out it was the steering box. The guys worked all night to get the car fixed for Saturday."
Saturday's lineups were based on points accumulated from the two preliminary nights. Carney II and the Cooper Motorsports team rallied from eighth to sixth place in a heat race before once again placing third in a B Main to transfer into the main event.
"The car was great in the feature. In a couple laps we had worked from last up to 18th. I was passing a couple of cars every lap. Then a car spun in front of me and tried to keep it going and collected us. It was a pretty hard hit and ended the night.
"It was a disappointing weekend and I don't want it to end like that. We worked hard together to get me comfortable in the car, to get it where I liked it. We changed everything, but the motor. I feel we made great strides and if given another shot we would be a lot further ahead and I could get them the finishes that team deserves."
QUICK RESULTS –
Feb. 15 – East Bay Raceway Park in Gibsonton, Fla. – Heat race: 7 (9); B Main: 3 (2); Feature: 21 (24).
Feb. 16 – East Bay Raceway Park in Gibsonton, Fla. – Heat race: DNF (8); B Main: DNS (-).
Feb. 17 – East Bay Raceway Park in Gibsonton, Fla. – Heat race: 6 (8); B Main: 3 (2); Feature: 24 (24).
SEASON STATS –
5 races, 0 win, 1 top five, 1 top 10, 2 top 15s, 2 top 20s
Shawn Miller – Inside Line Promotions – [email protected] | (541) 510-3663