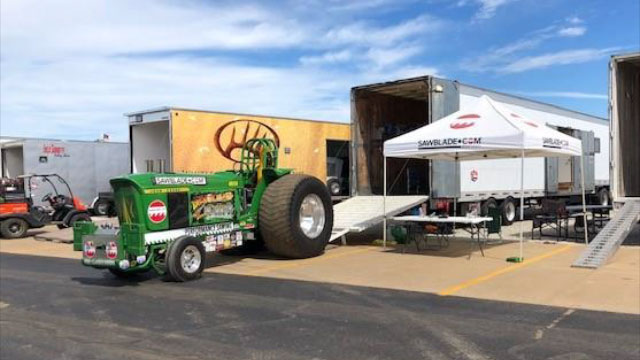 Inside Line Promotions – WHEATLAND, Mo. (Sept. 18, 2019) – To say the 2019 season in the Lucas Oil Pro Pulling League Champions Tour was frustrating for the SawBlade.com backed pulling team of David and Janet Esteb is a huge understatement.
The team wrapped up the season with the series last Friday at Lucas Oil Speedway and once again had to deal with mechanical woes.
"It just wasn't a good night," Janet Esteb said. "One of the three turbo chargers went out and we could not get it off the line. It was so disappointing."
David Esteb piloted Eat'n Dollars/Alky Edition to a 10th-place finish in the 2019 Pro Pulling League Champions Tour championship standings.
"We hope to get the turbo fixed soon," Janet Esteb said. "We have a non-sanctioned brush pull in Georgetown, Ohio, at the end of September. We can probably get at least three passes on the tractor to help get it lined out for next year.
"We will continue to work hard during the offseason to get this team better for 2020 and give SawBlade better results."
MEDIA LINKS –
Website: http://www.SawBlade.com
Twitter: https://twitter.com/SawBladecom
Facebook: https://www.facebook.com/SawBladecom
Instagram: https://www.instagram.com/sawblade.com_
SPONSOR SPOTLIGHT – SawBlade.com
Besides sponsoring the Esteb's tractor pulling team, SawBlade.com sponsors the 360 c.i. sprint car team of Scott Bogucki. SawBlade.com, located in Houston, Texas, is redefining the way industrial, hardware and home use band saw blades are made and distributed. For more information, visit http://www.SawBlade.com.
INSIDE LINE PROMOTIONS –
Inside Line Promotions specializes in affordable public relations and media management for motor sports drivers, teams, sponsors, tracks, series, events, organizations and manufacturers. ILP Founder Shawn Miller leverages professional journalism with new media technologies and social networking to improve your exposure and the return on investment for your sponsors.
To meet the media relations needs of your program by joining Team ILP, contact Shawn at 541-510-3663 or [email protected]. For more information on Inside Line Promotions, visit http://www.InsideLinePromotions.com.