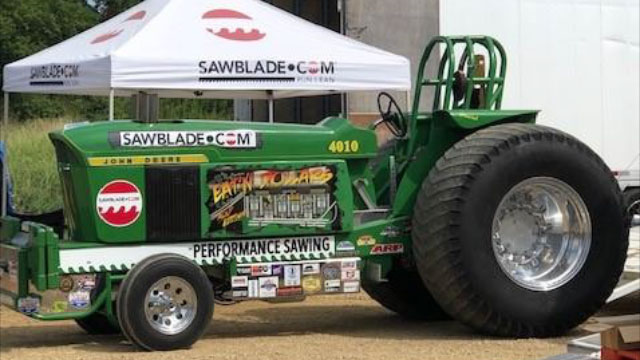 Inside Line Promotions – HILLSBORO, Wis. (Aug. 13, 2019) – Mechanical problems continue to plague the SawBlade.com backed pulling tractor team owned by David and Janet Esteb.
The team suffered a mechanical problem during Lucas Oil Pro Pulling League Champions Tour events last Friday and Saturday at the Hillsboro Charity Pull.
On Friday, the Eat'n Dollars/Alky Edition tractor shut down on David Esteb while pulling. He recorded a pull of only 185.98 feet to finish 12th. The pull was won by Terry Blackbourn of Newton, Wis., who had a good pull measuring 306.83 feet.
"It just shut down on David. We checked it over and really couldn't find a problem so we decided to try again Saturday."
The same trouble arose Saturday and David Esteb had a pull of only 200.53 feet for a 14th-place finish. Blackbourn again was the winner with a pull measuring 303.05 feet.
"It just shut down again. So we came home and tore the engine down and found we have five broken lifters and a broken rocker arm. We will put another motor together and we will have about two weeks until we pull in Rantoul, Ill., at the Half Century of Progress Farm Show on Aug. 24."
The SawBlade.com Eat'n Dollars/Alky Edition tractor will then compete with the Lucas Oil Pro Pulling League on Aug. 31 at the Robertson County Fairgrounds in Springfield, Tenn.
The Esteb's currently sit 11th in the Lucas Oil Pro Pulling League Champions Tour standings for the Light Super Stock Division.
MEDIA LINKS –
Website: http://www.SawBlade.com
Twitter: https://twitter.com/SawBladecom
Facebook: https://www.facebook.com/SawBladecom
Instagram: https://www.instagram.com/sawblade.com_
SPONSOR SPOTLIGHT – SawBlade.com
Besides sponsoring the Esteb's tractor pulling team, SawBlade.com sponsors the 360 c.i. sprint car team of Scott Bogucki. SawBlade.com, located in Houston, Texas, is redefining the way industrial, hardware and home use band saw blades are made and distributed. For more information, visit http://www.SawBlade.com.
INSIDE LINE PROMOTIONS –
Inside Line Promotions specializes in affordable public relations and media management for motor sports drivers, teams, sponsors, tracks, series, events, organizations and manufacturers. ILP Founder Shawn Miller leverages professional journalism with new media technologies and social networking to improve your exposure and the return on investment for your sponsors.
To meet the media relations needs of your program by joining Team ILP, contact Shawn at 541-510-3663 or [email protected]. For more information on Inside Line Promotions, visit http://www.InsideLinePromotions.com.