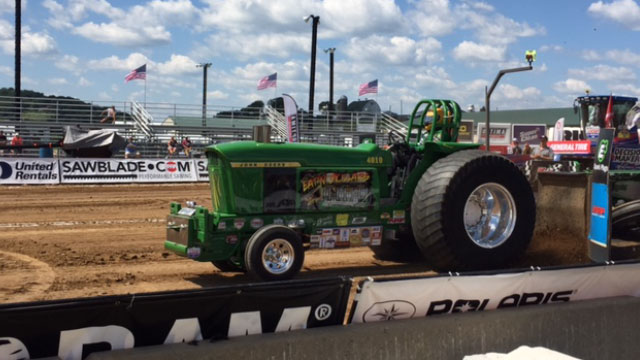 Inside Line Promotions – MACKVILLE, Wis. (June 18, 2019) – The SawBlade.com backed pulling tractor team owned by David and Janet Esteb scored a 10th-place finish against the best running light super stocks in the country last Saturday during a Lucas Oil Pro Pulling Champions Tour event.
After getting rained out Friday at St. Edwards Parish, track crews were able to make improvements for Saturday's pull.
"The track crew worked very hard to make sure we got Saturday's pull in. After scraping off eight to 10 inches of mud the track turned out to be a good track. We had a few issues to work out on the new motor, but overall we were pleased with how it ran."
David Esteb drove Eat'n Dollars/Alky Edition to a 10th-place finish with a pull of 293.554 feet. The winner was Terry Blackbourne with a pull of 333.574 feet.
"We competed with some of the best Light Super Stock machines in the country. We have some work to do, but I'm pleased how the new engine worked on its first pull."
The SawBlade.com backed Eat'n Dollars/Alky Edition machine will be back in action June 29 in Winamac, Ind., with the Indiana Pulling League. The next Lucas Oil Pro Pulling Champions Tour event for the Esteb's will be July 12 at the Jersey County Fairgrounds in Jerseyville, Ill.
MEDIA LINKS –
Website: http://www.SawBlade.com
Twitter: https://twitter.com/SawBladecom
Facebook: https://www.facebook.com/SawBladecom
Instagram: https://www.instagram.com/sawblade.com_
SPONSOR SPOTLIGHT – SawBlade.com
Besides sponsoring the Esteb's tractor pulling team, SawBlade.com sponsors the 360 c.i. sprint car team of Scott Bogucki. SawBlade.com, located in Houston, Texas, is redefining the way industrial, hardware and home use band saw blades are made and distributed. For more information, visit http://www.SawBlade.com.
INSIDE LINE PROMOTIONS –
Inside Line Promotions specializes in affordable public relations and media management for motor sports drivers, teams, sponsors, tracks, series, events, organizations and manufacturers. ILP Founder Shawn Miller leverages professional journalism with new media technologies and social networking to improve your exposure and the return on investment for your sponsors.
To meet the media relations needs of your program by joining Team ILP, contact Shawn at 541-510-3663 or [email protected]. For more information on Inside Line Promotions, visit http://www.InsideLinePromotions.com.