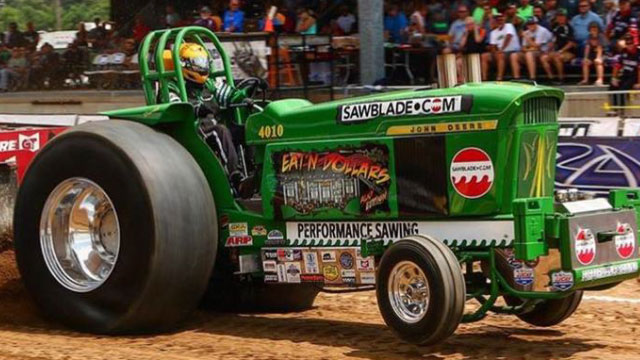 Inside Line Promotions – FRANKLIN, Ind. (May 21, 2019) – The SawBlade.com backed pulling tractor team owned by David and Janet Esteb has been hard at work over the winter and spring getting ready for the 2019 Lucas Oil Pro Pulling Champions Tour season.
"We had our SawBlade tractor displayed at the PRI show in Indianapolis in December. We didn't get invited to the National Farm Machinery Show this year. They only invite 12 light superstock tractors from all over the United States. We will try again next year."

"We have been busy rebuilding a new motor and David redid the rear end because of some issues."
The Estebs' first pull will be an Indiana Pulling League event in Boswell, Ind., on June 1. The Lucas Oil Pro Pulling League Champions Tour season starts for their division June 14-15 at Mackville, Wis.
"We are planning to be at Boswell unless we are in the field," Janet Esteb said. "This weather has been crazy lately."

"We are very glad to have SawBlade.com for another year of sponsorship and are honored to represent such a great company during the pulling season."
David Esteb drove Eat'n Dollars/Alky Edition to a seventh-place finish in the 2018 Lucas Oil Pro Pulling League Champions Tour for the Light Super Stock Division. The class is limited to a 505ci engine, up to four turbo chargers with a maximum of three stages. The Estebs' machine weighs 6,300 pounds.
At tractor pulls the driver who pulls the weighted sled – that gets heavier the farther the driver travels down the track – the longest wins. A pulling track is typically 300-to-320 feet long.
MEDIA LINKS –
Website: http://www.SawBlade.com
Twitter: https://twitter.com/SawBladecom
Facebook: https://www.facebook.com/SawBladecom
Instagram: https://www.instagram.com/sawblade.com_
SPONSOR SPOTLIGHT – SawBlade.com
Besides sponsoring the Estebs tractor pulling team, SawBlade.com is the presenting sponsor of the Lucas Oil American Sprint Car Series National Tour along with sponsoring the 360 c.i. sprint car team of Scott Bogucki. SawBlade.com, located in Houston, Texas, is redefining the way industrial, hardware and home use band saw blades are made and distributed. For more information, visit http://www.SawBlade.com.
INSIDE LINE PROMOTIONS –
Inside Line Promotions specializes in affordable public relations and media management for motor sports drivers, teams, sponsors, tracks, series, events, organizations and manufacturers. ILP Founder Shawn Miller leverages professional journalism with new media technologies and social networking to improve your exposure and the return on investment for your sponsors.
To meet the media relations needs of your program by joining Team ILP, contact Shawn at 541-510-3663 or [email protected]. For more information on Inside Line Promotions, visit http://www.InsideLinePromotions.com.