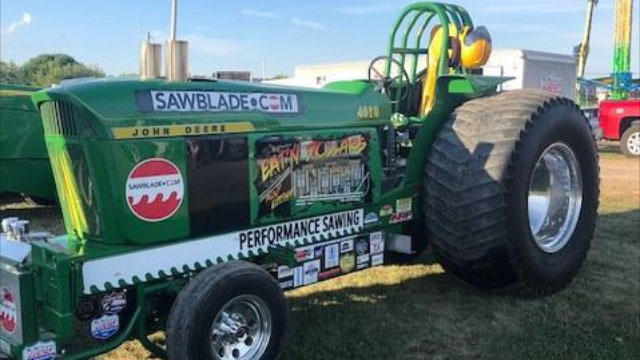 Inside Line Promotions – FRANKLIN, Ind. (July 24, 2018) – David and Janet Esteb have spent the last couple of months fine-tuning their SawBlade.com sponsored Eat'n Dollars/Alky Edition tractor and it is beginning to pay off.
The team recently competed at the Johnson County Fair, which was held in the Esteb's hometown of Franklin, Ind., a week ago Tuesday. Facing the Midwest Region pullers of the Lucas Oil Pro Pulling League, David Esteb scored a runner-up result in the light weight superstock class with a good pull of 289.15 feet. Earning the win was Mike Wilhite of Bardstown, Ky., with a pull of 303.94 feet.
The Estebs took their SawBlade.com backed tractor to Bardstown, Ky., to compete in a Kentucky Tractor Pullers Association event last weekend, but both nights rained out. The Estebs suffered the same fate on Sunday when they traveled to the Boone County Fair in Lebanon, Ind., for an Indiana Pulling League event.
"All the data and adjustments we have compiled and made through the first part of the season are starting to pay off with some very good runs."
Next up is the Elkhart County Fair in Goshen, Ind., this Thursday for a Lucas Oil Pro Pulling League Champions Tour event.
UP NEXT –
Thursday in Goshen, Ind., with the Lucas Oil Pro Pulling League
MEDIA LINKS –
Website: http://www.SawBlade.com
Twitter: https://twitter.com/SawBladecom
Facebook: https://www.facebook.com/SawBladecom
Instagram: https://www.instagram.com/sawblade.com_
SPONSOR SPOTLIGHT – SawBlade.com
Besides sponsoring the Estebs tractor pulling team, SawBlade.com is the presenting sponsor of the Lucas Oil American Sprint Car Series National Tour along with sponsoring the 360 c.i. sprint car team of Scott Bogucki. SawBlade.com, located in Houston, Texas, is redefining the way industrial, hardware and home use band saw blades are made and distributed. For more information, visit http://www.SawBlade.com.
INSIDE LINE PROMOTIONS –
Inside Line Promotions specializes in affordable public relations and media management for motor sports drivers, teams, sponsors, tracks, series, events, organizations and manufacturers. ILP Founder Shawn Miller leverages professional journalism with new media technologies and social networking to improve your exposure and the return on investment for your sponsors.
To meet the media relations needs of your program by joining Team ILP, contact Shawn at 541-510-3663 or [email protected]. For more information on Inside Line Promotions, visit http://www.InsideLinePromotions.com.