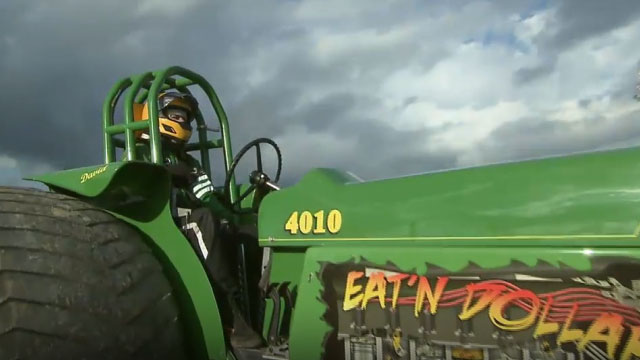 Inside Line Promotions – LOUISVILLE, Ky. (Feb. 23, 2018) – The SawBlade.com sponsored tractor pulling team of David and Janet Esteb were invited to compete at the recent 50th annual National Farm Machinery Show, which is billed as the "Super Bowl of Pulling."
While the event, which was held Feb. 14-17 at the Kentucky Exposition Center, didn't end the way the Estebs wanted, they were thrilled to be a part of it and can't wait for the 2018 pulling season to resume.
"We were honored to be invited and to have our Sawblade.com sponsored Eat'n Dollars/ Alky Edition light superstock tractor compete. Although we lost three cylinders off the line we hope to come back strong this summer."
The SawBlade.com backed Esteb team will compete in the Lucas Oil Pro Pulling League this year. That season will begin July 13 at the Jersey County Fair in Jerseyville, Ill., followed by the Marshall/Putnam County Fair in Henry, Ill., the ensuing night.
Other events include: July 26 in Goshen, Ind.; Aug. 3 in Roseville, Ill.; Aug. 10-11 in Hillsboro, Wis.; Sept. 1 in Springfield, Tenn.; Sept. 7-8 in Knoxville, Tenn.; and Sept. 14 in Wheatland, Mo.
"We also pull some state pulls and National Tractor Pull Association events as well."
David Esteb began competing in farm stock tractors when he was 16-years-old. He and Janet took a break to raise a family. However, they've returned to the sport strong and in 2012 switched the power plant to alcohol and renamed the tractor Eat'n Dollars/Alky Edition.
David Esteb was the 2017 Pro Pulling League Puller of the Year, having competed in the ARP Light Weight Super Stock Tractors division.
MEDIA LINKS –
Website: http://www.SawBlade.com
Twitter: https://twitter.com/SawBladecom
https://www.facebook.com/SawBladecom
Lucas Oil Pro Pulling League: http://www.propulling.com
SPONSOR SPOTLIGHT – SawBlade.com
Besides sponsoring the Estebs tractor pulling team, once again SawBlade.com will back the Cooper Motorsports 360ci sprint car team. SawBlade.com, which is located in Houston, Texas, is redefining the way industrial, hardware and home use band saw blades are made and distributed. For more information, visit http://www.SawBlade.com.
INSIDE LINE PROMOTIONS –
Inside Line Promotions specializes in affordable public relations and media management for motor sports drivers, teams, sponsors, tracks, series, events, organizations and manufacturers. ILP Founder Shawn Miller leverages professional journalism with new media technologies and social networking to improve your exposure and the return on investment for your sponsors.
To meet the media relations needs of your program by joining Team ILP, contact Shawn at 541-510-3663 or [email protected]. For more information on Inside Line Promotions, visit http://www.InsideLinePromotions.com.